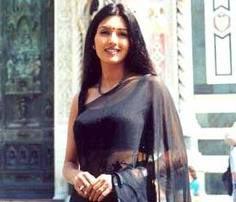 | | |
| --- | --- |
| Name | Deepti Bhatnagar |
| Height | |
| Naionality | Indian |
| Date of Birth | 30 September 1967 |
| Place of Birth | Meerut, Uttar Pradesh, India |
| Famous for | Acting |
Deepti Bhatnagar (born 30 September 1967) is an Indian model and actress. Deepti Bhatnagar was born in a Hindu family from Meerut. She did her early education from Delhi and attended Meerut University. She moved to Mumbai in 1992 to identify a good ad agency to promote her handicrafts factory in Meerut, Uttar Pradesh.

Bhatnagar was in Mumbai in 1992 for promoting her handicrafts, when she got an opportunity to sign for an ad agency to model for the Roopmilan saris' press ad and after that ad she signed 12 more campaigns.She had given up her interest in running the handicraft factory and entered into the professional modeling world. She won the Eves Weekly contest in 1990.Soon afterwards, she was modeling in Singapore for various international fashion shows.

Her first film role came in Sanjay Gupta's Ram Shastra, also starring Jackie Shroff and Manisha Koirala.Some of her better known films are Pelli Sandadi (in Telugu), Inferno and the Aamir Khan starrer Mann.

In 2001, she ventured into television production with the travel shows Yatra, a religious travel guide show and Musafir Hoon Yaaron, an around the world travel guide show, both aired on STAR Plus. She also hosted both the shows.She visited around 80 countries in 6 years for Musafir Hoon Yaaron.

She started her own production company, Deepti Bhatnagar Productions having facilities of dubbing, editing and post-production.

Bhatnagar married her longtime boyfriend Randeep Arya, director Of Musafir hoon Yaroon. They have a son, Shubh, born on July 25th 2003. Deepti Bhatnagar and Randeep Arya have become parents of a baby boy for the second time around.

They have a five-year-old son Shubh. Bhatnagar gave birth at Breach Candy Hospital on Thursday(8h Jan 2008).Though she had been hoping for a baby girl, the elated mother smiles, "Ultimately, all you want is a healthy baby." The few-day-old baby has already been named. "His elder brother has decided to call him Shiv," says Bhatnagar.