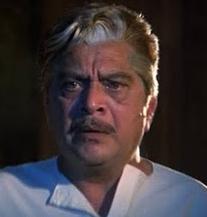 | | |
| --- | --- |
| Name | Dr Shriram Lagoo |
| Height | |
| Naionality | Indian |
| Date of Birth | November 16, 1927 |
| Place of Birth | Satara district, Maharashtra |
| Famous for | Acting |
Dr. Shreeram Lagoo (born 16 November 1927) is an Indian film and theatre actor, in Hindi and Marathi. He is known for his character roles in films. He has acted in over 100 Hindi and Marathi films, over 40 Marathi, Hindi and Gujarati plays, and has directed over 20 Marathi plays.

He is considered one of the greatest actors of Marathi stage during the second half of twentieth century. He has also been very vocal and active in furthering progressive and rational social causes, for example in 1999, he and social activist G P Pradhan be undertook a fast in support of anti-corruption crusader Anna Hazare. He won the 1978 Filmfare Best Supporting Actor Award for Hindi film Gharaonda.

Shreeram Lagoo was born in Satara district, Maharashtra, India to Dr. Balakrishna Chintaman and Satyabhama Lagoo, the eldest of four children. He attended Bhave High School, Fergusson College (University of Pune), and B.J. Medical College in Pune, India.

Shreeram Lagoo started acting in plays while attending Medical School. Once bitten by the theatre bug, he continued his dramatic activity through the group "Progressive Dramatic Association" which he started with like-minded senior friends like Bhalba Kelkar.Meanwhile he trained as an ENT surgeon in Mumbai in the early fifties and practised in Pune for 6 years before going to Canada and England for additional training.

He practised medicine in Pune, India and Tabora, Tanzania in the sixties but his theatre activity through Progressive Dramatic Association in Pune and "Rangaayan" in Mumbai continued when he was in India. Finally, in 1969 he became a full time actor on Marathi stage, debuting in the play "Ithe Oshalala Mrityu" written by Vasant Kanetkar.

He was the first protagonist of the famous Marathi play Natasamrat written by Kusumagraj (Vishnu Vaman Shirwadkar) and is best remembered for that role.

He has a legend status in Marathi cinema, where he has done many memorable movies which include successful movies like Sinhasan, Pinjra, Mukta And many more

His wife, Deepa Lagoo is also a noted theatre, television and film actress.

Shriram is a known non-religious rationalist. Once after being conferred with an award called 'Punyabhushan (Pride of Pune)' on behalf of the organization called 'Tridal', he was interviewed by Sudhir Gadgil. When asked about Jabbar Patel's play, wherein Dr. Lagoo had to stand before Lord Vitthal; "did you stand there as a devotee or only as per the demand of the script?", Dr. Lagoo replied "I stood there as if I was standing in front of a 'stone' that is known as Panduranga".

He has written an article titled "Time to Retire God" which provoked hot discussions in the print media and other public platforms in India. This article was written as an introduction to a book on Dr. Abraham Kovoor. In this article Dr. Lagoo logically came to the conclusion that the concept of God is defunct.