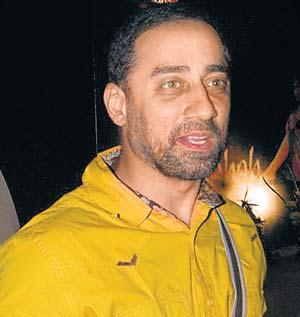 | | |
| --- | --- |
| Name | Faisal Khan |
| Height | |
| Naionality | Indian |
| Date of Birth | September, 1966 |
| Place of Birth | Mumbai, India |
| Famous for | Acting |
Faisal Khan (born in September 1966, Mumbai, India) is a Bollywood actor. He is the brother of Aamir Khan, Farhat Khan and Nikhat Khan who is a producer. His father Tahir Hussain was a producer; his uncle Nasir Hussain was a director.

As a child he appeared very briefly in the 1969 film Pyar Ka Mausam playing Shashi Kapoor's role as a child. In 1988 he played a minor role as a villain in his brother Aamir's film Qayamat Se Qayamat Tak. He went onto play another bit part in his brother's 1992 film Jo Jeeta Wohi Sikandar.

He got his first leading role in the 1994 film Madhosh which was produced by his father Tahir Hussain but the film failed to launch his career as it flopped at the box office. After a five-year hiatus he attempted to make a comeback appearing alongside his brother in Mela (2000) which also failed at the box office. Since then he acted in a few B-grade movies none of which did well. He also appeared in the TV serial Aandhi in 2003.

He was married to Samia Kamruddin, a handbag designer in London, England. They divorced after only a few months on December 4. Sources said that Faisal Khan had gone into depression after he separated from his wife.

The Mumbai police reportedly persuaded Faisal to get admitted to a hospital for psychological treatment in 2004. This was after his brother Aamir filed a petition to the police saying Faisal, who also is an actor, was sending threatening letters to him and other family members. Sources said neither Aamir nor any other family member could persuade Faisal to get admitted. Aamir then approached the Khar police station in the western suburb of Mumbai with the letters and sought help. Deputy Commissioner of Police, Khar, Amitabh Gupta said, "Aamir Khan used to receive some letters from a known person, which he forwarded to us."

On 14 October 2007 it was reported that he had gone missing for the last two days. The actor was undergoing treatment for schizophrenia. The court awarded custody of Faisal to his father Tahir. His father died in February 2010 at the age of 79.