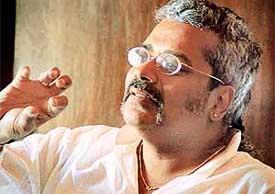 | | |
| --- | --- |
| Name | Hariharan |
| Height | |
| Naionality | Indian |
| Date of Birth | 3 April 1955 |
| Place of Birth | Thiruvananthapuram, Kerala, India |
| Famous for | Singing |
Hariharan( born 3 April 1955) is an Indian playback singer in Hindi, Tamil, Malayalam, Kannada, Marathi, Bhojpuri and Telugu movies, an established ghazal singer, and one of the pioneers of Indian fusion music. His melody is strongly appreciated by the film fraternity. In 2004, he was honoured with the Padma Shri by the Government of India.

Born in Thiruvananthapuram he grew up in Mumbai in a Tamil speaking family, and has bachelor degrees in science and law. He did his collegiate studies from S.I.E.S.College. The son of renowned Carnatic vocalists, Shrimati Alamelu and the late H.A.S. Mani (full name:Anantha Subramani Iyer), he inherited his parents' musical talents. Alamelu was Hariharan's first guru (mentor). From here he picked up Carnatic music skills. He was also exposed to Hindustani music from a young age. In his teens, inspired by the songs of Mehdi Hassan and Jagjit Singh, Hariharan developed a passion for ghazals and started training in Hindustani music from Ustad Ghulam Mustafa Khan. He used to put in thirteen hours of singing practice everyday. The committed Hariharan also put heart and soul into learning Urdu when he decided to become a ghazal singer.