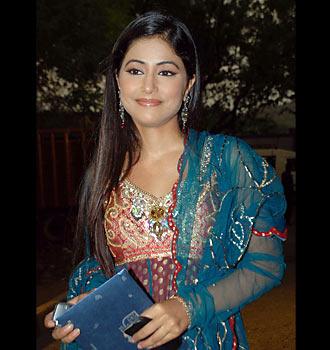 | | |
| --- | --- |
| Name | Hina Khan |
| Height | 5'5" |
| Naionality | Indian |
| Date of Birth | 02 October 1987 |
| Place of Birth | Srinagar, India |
| Famous for | Acting |
Born to a Muslim family in Srinagar, J&K moved to Delhi to do her management studies. As she belongs to Muslim family and also not from any mixed city and also did not had any filmy environment she had to fight a lot to get to the acting world. She was forever an average student and more interested in painting and singing than her studies but had burning desire to become an actress. On the lighter side Amitabh Bachann and Kajol are Hina Khan's all time favourite bollywood stars.

Career as actress: Her role in Yeh Rishta Kya Kehlata hai is her first look on little screen. This serial has become very popular in a very short span of time. now she is also working on film Mere Saajan which will release later this year. In Yeh Rishta Kya Kehla ta hai Hina Khan is playing the character Akshara' s role. Akshar's character is of very calm and composed girl who is loved and adored by every member of the family.