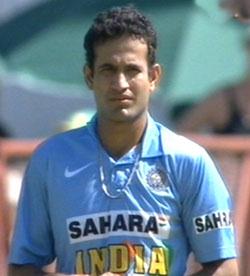 | | |
| --- | --- |
| Name | Irfan Khan Pathan |
| Height | 6' 1" |
| Naionality | Indian |
| Date of Birth | 27 October 1984 |
| Place of Birth | Surat, Gujarat, India |
| Famous for | Cricket |
Irfan Khan Pathan was born October 27, 1984 in Baroda, Gujarat, India) is an Indian cricketer who made his debut for India in late-2003 and was a core member of the national team until a decline in form set in during 2006, forcing him out of the team.

In late-2004 he took 18 wickets in two Tests against Bangladesh, but the start of 2005 he performed poorly and conceded runs at a high rate, leading to a brief exile from the one-day international (ODI) team. The bowler improved his batting skills to become a bowling all-rounder, and he opened the batting on occasions in ODIs and scored 93 in a Test match in the role after an illness to Virender Sehwag.

For the first nine months of Chappell's stint at the helm, Pathan performed strongly with both bat and ball, scoring runs regularly and frequently taking top-order wickets. In early 2006, Pathan became the first and only bowler to take a Test hat-trick in the first over of the match. He returned to international cricket in September 2007 for the inaugural World Twenty20, where he took three wickets and was man of the match as India beat Pakistan in the final. In late-2007 Pathan was recalled into the Test team and hit his maiden Test century, but could not maintain his place in the team as his bowling was not effective enough with only two pacemen needed.

Pathan was then selected for the India Under-15 team in mid-2000 to play a series of matches against their colleagues from other countries. He took 15 wickets at 12.66 in ten matches, including a best of 3/2 against Thailand, and scored 15 runs at 7.50. In four matches, he scored 102 runs at 102.00 including a best of 63 not out, and took 10 wickets at 32.50. He was then promoted to the Under-22s, where he scored 44 and took 4/71 in his first match against Saurashtra, prompting the Baroda selectors to propel him into the senior team. Pathan scored 32 in the second innings and took 3/95 and 1/34 in a defeat, but his performance reminded Test batsman V. He took 20 wickets at 20.40, including a best of 6/41 against Gujarat, and scoring 190 runs at 31.66 with a best of 63 not out. In early-2002, he was selected for the Under-19 Cricket World Cup in New Zealand, where he took six wickets at 27.50 and scored 30 runs at 15.00, taking 2/18 in a win over South Africa. In all Pathan, had taken 22 wickets at 18.22 for the tournament, and scored 46 runs at 11.50. These performances propelled Pathan into the India A team at the age of 17 and a half, for a tour of Sri Lanka, where he took six wickets at 35.00 in three first-class matches. He took 15 wickets at 25.93 in the three youth Tests, which India lost 1 0, with a best of 4/83 in the Second Test. He then took four wickets at 42.00, conceding more than six runs an over, and scored 66 runs at 33.00 in the three youth ODIs, which India won 2 1. Pathan was rewarde with selection in the Rest of India team that played against Railways in the Irani Trophy at the start of the 2002 03 season. He took 5/88 and 4/106 against Plate Group A and 4/101 against Elite Group C, before taking 3/53 and 2/42 as Elite Group A defeated Elite Group B in the final by seven wickets. Pathan ended the tournament with 19 wickets at 27.00 and scored 72 runs at 24.00. In the one-dayers, Pathan also struggled for Baroda, taking three wickets at 64.66 in four matches at an economy rate of 4.85, but he was nevertheless selected for the zonal team, where he took four wickets at 34.25 in four matches at an economy rate of 3.91.