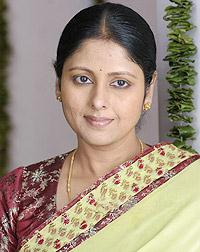 | | |
| --- | --- |
| Name | Jayasudha |
| Height | |
| Naionality | Indian |
| Date of Birth | 17 December 1958 |
| Place of Birth | Chennai, Tamil Nadu, India |
| Famous for | Acting |
Jayasudha is an Indian film actress-turned-MLA for the Congress in Secunderabad. She was a famous South Indian actress from the 1970s and 1980s, with most of her films being Telugu films. She has also worked in Tamil, Kannada, Malayalam, and three Hindi films.

Jayasudha was born as Sujatha in Madras, Tamil Nadu on 17 December 1958 to a Telugu speaking family. Her aunt is the famous actress and director Vijaya Nirmala. Jayasudha made her film debut when she was twelve years old as Jamuna's daughter in the Telugu film Panduntikaapuram (1972). Director K. Balachander gave her a small role in the Tamil film Arangetram where she shared space with Kamal Haasan. She acted in a number of films in Tamil mostly under Balachander's direction—Sollathaan Ninaikkiren (1973), Naan Avanillai (1974) and Apoorva Raagangal. She also changed her name to Jayasudha, since there was already another actress named Sujatha. Her fame quickly spread, where Telugu film producers were offering her good film roles.

While her debut role as heroine in the Telugu film Lakshmana Rekha (1975) got her attention, it was really the title role in Jyothi (remake of the Hindi film Mili starring Jaya Bhaduri) that made her a big star in Telugu films. She was now called a successor to the great Telugu actress Savitri and performed many strong roles and showed excellent range.[1] She is given the title "Sahaja Nati" which means "spontaneous/lively actress."

Her roles varied from the cute looking teeny bopper who wore minis in Nomu (1974), to that of a tortured wife of a sadist husband in K. Balachander's film Idi Katha Kaadu (1979) to that of a comedienne who discovers that her husband wants to murder her for her wealth in Money (1993). She performed glamourous roles in Telugu remakes of Hindi films, such as Yugandhar (1979) (the fighter role that Zeenat Aman originated in Don (1978 film)), Illalu (1981) (Reena Roy's dark-shaded role from Apnapan (1977)).

In commercial cinema, she received a huge break when she starred in Adavi Ramudu (1977), which broke box office records. She also showed innovativeness and lack of vanity in original Telugu films like Premabhishekam (1981) where she played a supporting role as a deglamorized prostitute, while Sridevi played the female lead.

She has acted in 225 Telugu films, and in one year, she had 24 film releases. She accomplished all this, despite her illiteracy in Telugu, by having people read lines to her and she would remember and deliver her lines. Noted filmmaker Dasari Narayana Rao repeatedly cast her in his films. In the film "Idekkadi Nyayam" (1977), he used her name in the song "Andalanni Neelone Dagunnayi, Jayasudha," that was picturized on her. By 1982, she became such a famous actress that Dasari titled a film that she starred in, Jayasudha (1982), named after her. Her fame also allowed producers to cast her sister Subhashini in supporting roles in some of the films that she starred in, such as Sivaranjani (1978), "Doctor Cine-actor" and Meghasandesam (1983). Subhashini's daughter Pooja is now a budding actress.

Jayasudha is a granddaughter of eminent scholar and literary historian, Nidudavolu Venkatarao. She married producer Nitin Kapoor, cousin to actor Jeetendra in 1985 and have two children, sons Nihar (born in 1986) and Shreayan (born in 1990). While she has friends in the industry, such as Raadhika and Revati, her closest friend is Jayaprada, with whom she had acted in an number of films such as Adavi Ramudu and Meghasandesam. She is now a MLA for Congress from the Secunderabad constituency. She has also launched her official website to further her political career.