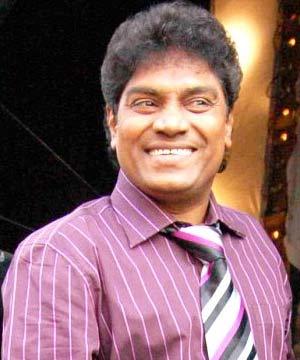 | | |
| --- | --- |
| Name | Johnny Lever |
| Height | |
| Naionality | Indian |
| Date of Birth | 7 January 1950 |
| Place of Birth | Prakasam District, Andhra Pradesh, India |
| Famous for | Acting |
John Prakasa Rao Janumala famously known as Johnny Lever, born 7 January 1950, in Ossalapalle, Prakasam District, Andhra Pradesh) is an Indian film actor and comedian.

He was born to Prakash Rao Janumala and Karunamma Janumala and brought up in Mumbai. He started his career in 1984 and has acted in over 350 Bollywood films. He has received 13 Filmfare awards nominations in Best Comedian Category and has won the award twice.

Johnny Lever was born in a Telugu Christian family(Mala community) and was brought up in Mumbai in King's Circle, Dharavi. Johnny studied in Andhra Telugu School till the seventh grade but couldn't study further because of financial problems in his family.

After which he decided to leave school and started working at a very young age. He did all kinds of work, for example selling pens on the streets of Bombay in a special way of imitating Bollywood stars. He also danced on the songs of Bollywood stars. Hence he developed a passion for mimicry and stand-up comedy, inspired by watching comedians like Johnny Walker, Kishore Kumar and Mehmood in films and mimicry artists like Dinesh Hingoo on stage.

He then decided to be a mimicry artist. To seek guidance and help regarding mimicry he met his mentor Pratap Jani and mimicry artist Ram Kumar, who helped him and taught him the basics of mimicry.

Johnny also used to work as an employee in Hindustan Lever's factory in Mumbai with his father. While working he also used to entertain his co-workers in the factory by imitating Elvis Presley. At one of the functions at his factory he was asked to perform and show his talent. So impressed were his colleagues and officers of the factory by his performance that his union leader said that from now on we will call him "Johnny Lever".

After that, he started to perform in musical shows (orchestras) and after becoming famous there, he then joined the legendary music director duo Kalyanji-Anandji's group. He did a lot of shows and world tours with them, one of his first big tours was with Amitabh Bachchan in 1982.

Since he became an instant hit at orchestras and he wasnt being able to find time; there evolved another comedian who substituted him by the name of Johnny Fever. But his fame was shorlived as Raju Srivastav came to Mumbai during the same time and started filling gaps of Johnny Lever at orchestras.

During this period he learned a lot from Kalyanji who according to Lever was also a great philosopher and a very humorous person, and also his mentor. At one of his shows Sunil Dutt noticed his talent and potential and offered him his first movie Dard Ka Rishta.

In the 1980s he released his audio cassette of mimicry/comedy, Hansee Ke Hungame, which became a super hit not only in India, but worldwide, after which he became very famous and this took him to another level. In early eighties he also did few commercials of Kachua chhap macchar agar batti which was directed by Shekhar Kapoor.

In 1986, he performed in a very big charity show called "Hope 86" in front of the whole Hindi film industry as a filler. The audience loved his performance and shouted once more. The whole film industry recognized his talent and producer Gul Anand offered him a film called Jalwa with Naseeruddin Shah. He is known as the king of comedy in Bollywood and known to have inspired many comedians and stand-up artists in India.

Johnny started his mass career by releasing a Audio Cassette wherein he mimiced various Hindi Stars and created a few famous characters in the process; Chela Ramani being one. His cassette was such a big hit in the early 80s that all music stores played it round the clock. Some of the famous episodes in the audio cassette were- Sky Lab, Madrasi Anna Criket, Pathan in the bus, Hijra Kabaddi, Chela Ramani..

Lever got his first break in Indian cinema with the film Dard Ka Rishta, thanks to the late Sunil Dutt. Since then, he has acted in more than 350 films. After Dard Ka Rishta, he was seen in Jalwa with Naseerudin Shah, but his first major success came with Baazigar, and after that he was seen in almost every movie as a supporting actor/comedian. Even though he had become busy with so many movies, he continued to do live shows.

One of his most memorable live performances was Michael Jackson's impersonation at the Filmfare Awards 1999. His most acclaimed performance was the character of "Babulal" in the film, Baazigar, directed by Abbas-Mustan. He is also remembered for some of his other famous characters, like "Chotta Chattri", "Aslam Bhai", etc. His performance in the film, Judaai and his famous dialogues in the movie, Abba Dabba Jabba are also unforgettable.

His first ever Tamil feature film is Anbirkku Alavillai produced by SIMPL (Shepherd India Media Pvt. Ltd.), to be released in 2011. He also had a special appearance in one Telugu feature film, Criminal directed by Mahesh Bhatt, the famous Bollywood director.

Lever also appeared on Zee TV, in his own show called Johny Aala Re. In 2007, he appeared as a judge on the stand-up reality show Comedy Circus.

He is also the president of CINTAA (Cine And T.V. Artist Association) which presents its own mega television show called Superstars ka Jalwa on Star Plus, every Sunday. He is also the president of MAAM (Mimicry Artist Association Mumbai). He has done thousands of live shows all over the world. His younger brother Jimmy Moses, is also a stand-up comedian and mimicry artist.

He is married to Sujatha and has two children, a daughter Jamie and a son Jesse.His brother Jimmy Moses is also a famous stand-up comic who has worked on The Great Indian Laughter Challenge and Comedy Circus.