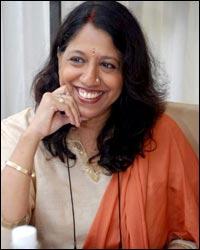 | | |
| --- | --- |
| Name | Kavita Krishnamurthy |
| Height | |
| Naionality | Indian |
| Date of Birth | January 25, 1958 |
| Place of Birth | Delhi, India |
| Famous for | Singing |
Kavita Krishnamurthy is one of the most famous Indian film playback singers. She is classically trained and has sung a wide range of classical-based songs. In her career, she has worked with a variety of music composers, including R.D. Burman and A.R. Rahman. She is also the recipient of four Filmfare Best Female Playback Awards, including 3 consecutive awards in the period 1994-1996 and the prestigious Padmashri which she received in 2006.

Born Sharada Krishnamurthy in a Tamil Iyer family in New Delhi, India to T.S. Krishnamurthy, an employee of Education Ministry. She began her music training with her aunt, Mrs. Bhattacharya, who taught her Rabindra Sangeet. She began her formal training in Hindustani classical music under Balram Puri, a classical singer.

At the young age of eight, Kavita won a gold medal at a music competition. Subsequently, she kept winning many such gold medals as she kept participating in the Inter-Ministry Classical Competition in New Delhi in the mid 1960s.

At the age of nine, she got an opportunity to record a Tagore song in Bengali with the legendary Lata Mangeshkar under the auspices of the music composer and singer Hemant Kumar. Although the young Sharada was aspiring to be working with Indian Foreign Services, Kavita moved to Bombay when she was just 14 to try her luck as a playback singer in the Hindi film industry. She is an alumnus of St. Xaviers' College, Bombay from where she did her BA Honors Economics. She was also very active in the St. Xaviers' Music Group during her college days. During the annual college festival (Malhar), she accidentally met Ranu Mukherjee, the daughter of Hemant Kumar. Ranu took the initiative of reintroducing Kavita to her father. He was impressed by her grounding in music, so he began using her as a singer during his live performances. In one such performance, playback singer Manna Dey spotted her and employed her to sing advertisement jingles. Through her aunt's strong contacts, she met Jaya Chakravarthy, the mother of actress Hema Malini, who later took the initiative of introducing Kavita to the music director Laxmikant (one half of the composer duo Laxmikant-Pyarelal) in late 1976.

Laxmikant gave her an option to work as a dubbing artiste or a career in playback singing later. Kavita chose the former and impressed Laxmikant with her extremely strong grasp of Hindustani classical music. Initially, she used to record songs and cut demos of songs intended for singers like Lata Mangeshkar and Asha Bhosle. In her struggling phase, she received the patronage of music composers Laxmikant—Pyarelal, who backed her so strongly that she was labelled as a "LP-campwalli" which gave many music directors an excuse to avoid working with her.

In 1980, she first sang the song, "Kaahe Ko Byaahi" in the film Maang Bharo Sajana, which featured her singing in her own voice. Unfortunately, the song was dropped from the final cut of the film. In 1985, her career took off with her first major hit, "Tumse Milkar Na Jaane Kyon" from the Hindi film Pyaar Jhukta Nahin. Post the success of the song, it opened up various opportunities beyond the Laxmikant-Pyarelal camp. However, "Hawa Hawaii" and "Karte Hain Hum Pyaar Mr. India Se", two popular songs from the equally popular movie Mr. India (1987), proved to be a turning point in her career. (The songs were composed by music composers Laxmikant-Pyarelal, the latter being a duet with Kishore Kumar and lip-synced on screen by actress Sridevi). Her collaboration with Laxmikant-Pyarelal produced several hits.

The 1990s thrust Kavita to being known as the undisputed leading female playback singer.Her performance as a singer in the film 1942: A Love Story, composed by R.D. Burman won her a lot of popular acclaim. She went on to work with several music directors of Hindi films of the 1990s, such as Anand-Milind, A.R. Rahman, Ismail Darbar, Nadeem-Shravan, Jatin-Lalit, and Anu Malik. During her stint as a playback singer, she sang duets with the leading male singers of her times, from Kishore Kumar and Suresh Wadkar to Kumar Sanu, Abhijeet Bhattacharya, Udit Narayan, and Sonu Nigam. Her female duets mostly have been with Alka Yagnik and Sadhana Sargam.

Post her marriage to violinist Dr. L. Subramaniam in Bangalore on 11 November 1999, Kavita got extremely selective and cut down on her film singing. She started expanding her artistic range to areas which were never explored. She was the main featured soloist in the Global Fusion album released by Warner Bros., featuring musicians from five continents. As she actively started exploring fusion music, Kavita travelled around the world including to the US, UK, Europe, Africa, Australia, the Far East, the Middle East, and South America. She performed in concert halls including Royal Albert Hall in London, The Kennedy Center in Washington, D.C., Madison Square Garden, The Lincoln Center in New York, the Zhongshan Music Hall in Beijing, The Esplanade in Singapore, The Putra Jaya World Trade Centre in Kuala Lumpur, and Gewandhaus Leipzigm.

Although primarily a playback singer, Kavita has sung with orchestras as a soloist; she collaborated with Western artists from jazz, pop and classical fields. She has lent her voice for many ghazal and devotional music albums. Both as a fusion music singer and as a playback singer, Kavita has performed throughout India.

She became the screen voice of some of the famous bollywood actresses like Shabana Azmi, Sridevi, Madhuri Dixit, Manisha Koirala and Aishwarya Rai.