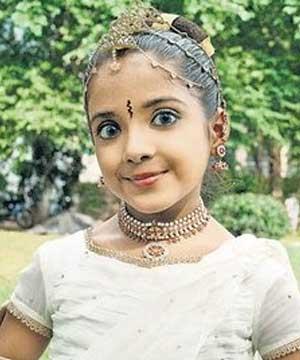 | | |
| --- | --- |
| Name | Khushi Dubey |
| Height | |
| Naionality | Indian |
| Date of Birth | December 15, 1999 |
| Place of Birth | Mumbai, India |
| Famous for | Acting |
Khushi Dubey has several Hindi serials to her credit. She plays the little daughter Angad & Kripa in Kaisa Yeh Pyar Hai. of She was in Ba, Bahu or Baby. She also played Nandini as a child in the Zee TV serial Rakhi, Atoot Rishtey Ki Dor. She currently plays chhote naagin in Zee TV's Naaginn, Waadon Ki Agnipariksha.She also act as Bani and Jai's misscarriage child in Kasamh Se.

Kaisa Yeh Pyar Hai the story of two lovers who just can't find a way to live happily with and after these ups and downs Kripa leaves Angad with their daughter. The daughter who is really the daughter of Prithvi and Kripa. Kripa however leaves her baby girl behind with her husband Angad who loves the little girl as his own and can't live without her. After the five-year leap the little girl grows up to be one of the most spoiled kids. She gets what she wants even before asking and if she doesn't her father Angad will fire or yell at the person who made his little Sur (the girls name) cry. Kripa enters back and hates the fact that her child is really spoiled and wants to change it. In the end Sur becomes a good girl and accepts her mother as Kripa.

Rakhi chronicles the relationship of elder brother, Bhai Raja, played by Ayub Khan, and Nandini, played by Nupur Joshi. There is a third sibling, Amber, but he doesn't have much of a storyline as of yet. Khushi played Nandini in the beginning of the show when it focused on how the children were abandoned by their father after their mother died and how the eldest brother worked hard to keep the three siblings together and out of the orphanage. Khushi also is acting occasionally in flashbacks on the show.

Naaginn is a story about an ichadhari cobra, played by Shayantani Ghosh, who transforms herself to take revenge from the Rathod family that had killed her parents for attaining the invaluable and powerful naagmani. Khushi plays the newly reincarnated ichadari naaginn, who later gets married in the Rathod family and then wrestles with the conflict between avenging her parents' murders and her love for her husband. Aroona Irani produces the show as well as plays the Rathod matriarch.