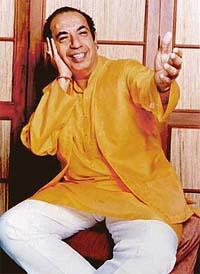 | | |
| --- | --- |
| Name | Mahendra Kapoor |
| Height | |
| Naionality | Indian |
| Date of Birth | January 9, 1934 |
| Place of Birth | |
| Famous for | Singing |
Mahendra Kapoor (January 9, 1934, Amritsar, Punjab, India - September 27, 2008, Mumbai, India) was an Indian playback singer.

In a career spanning five decades, his repertoire extended to 25,000 songs in various regional languages, including memorable hits like 'Chalo ek baar phir se Ajnabi ban jayen hum dono' Gumrah, 'Neele gagan ke taale' Hamraaz, and in various language, but he became synonymous with patriotic songs, with 'Mere Desh Ki Dharti', in Manoj Kumar's film Upkaar In 1972, he was awarded the Padma Shri by the Government of India.

Mahendra Kapoor was born in Amritsar, but soon moved to Mumbai. At an early age he was inspired by singer Mohammed Rafi but soon he started learning classical music under many well known classical singers like Pt.Hussanlal, Pt. Jagannath Bua, Ustad Niaz Ahmed Khan, Ustad Abdul Rehman Khan, Pt.Tulsidaas Sharma. He created a style of his own and won the Metro Murphy All-India singing competition, which led to his debut as a playback singer in V. Shantaram's Navrang in 1958, singing Aadha Hai Chandrama Raat Aadhi, under the musical direction of C. Ramchandra.

There is an interesting story associated with the recording of the debut song by Kapoor. He was singing "Adha Hai Chandrama" with Asha Bhonsle in the recording box, but due to some chord problem the music director could not hear his voice. He entered the box and asked Kapoor why he was not singing. Then Asha ji explained that he was singing brilliantly. The chord was then checked and the problem was solved, otherwise he would have lose his singing career.

He sang many hit songs of yesteryears, and the most notable ones being those for B.R. Chopra's Films (Dhool Ka Phool, Gumrah, Waqt, Hamraaz, Dhund etc.) and for Legendary Actor/Director Manoj Kumar (Upkaar, Purab Aur Paschim etc.)

Mahendra Kapoor is well known as The Vibrant Voice of India. Just like Pavarotti, Mahendra too had a very large vocal range with a beautiful vocal timber. He was the first Indian Playback Singer to record music in English. He sang 'Oh Saly please Help me.. & I am Feeling Blue" both which were an amazing feat for an Indian singer to do. He was asked by the famous "Boney M" group to sing their songs in Hindi with Musarat from Pakistan & they recorded the EverHit Pop Album M-3. Some of the songs are "Chori Chori Chalo!![4] (Original, Hoorray! Hoorray! by Boney M), "O' Meri Champe Ki Daali" etc

Mahendra Kapoor also got a chance to sing a duet with his idol and guru Mohammed Rafi. The song was "Kaisi Haseen Aaj Baharon Ki Raat" from the 1967 film "Aadmi". the song was originally recorded as a duet with Rafi and Talat Mehmood, but Manoj Kumar, one of the lead star refused to use Talat's voice for him. So, the song was re-recorded with Kapoor replacing Talat. It is a unique song with Talat and Rafi in the original song and Mahendra Kapoor and Rafi in the Movie version of the song. Also the only duet with these two legends Rafi and Mahendra Kapoor.

Later Mahendra Kapoor sung a parody of some of the hit songs of Rafi. This was from the film "Johar In Bombay", "Meri Pyari Pyari Surat Ko". He also tried to sing "O Duniya Ke Rakhwaale" as a parody in the film "Pati, Patni Aur Woh"

He has sung in almost every language in India, and has sung & covered almost every verity of songs such as Patriotic, Romantic, Bhajans, Qawwalis, Naats, & the TV Serial "MAHABHARAT" title song has been the umpteenth feather in his already crowned cap. He sang the highest number of songs in Gujrati, Punjabi & Marathi movies. In Marathi he was very popular for being the voice of Dada Kondke in all his movies. In spite of being associated with Dada Kondke's colloquial style his singing for Marathi movies was not limited to Dada Kondke's movies only. His son Rohan Kapoor is an actor/Singer. He Acted in a few films in the 1980s such as Yash Chopra's Faasle (1985) and Love 86 (1986), Prakash Mehra's Imandaar and later did stage shows along with his father & is a well trained singer. He cut several Albums in India & UK.

One thing of Mahendra Kapoorji must be remembered on Sai Devotees. At SHIRDI SAI BABA TEMPLE at Shirdi, Maharashtra.. OM JAI JAGADISH HARE.. is played along with Bhupalis UTHA UTHA SAKALAJANA (Sung by ASHA BHOSLE) and GHANASHYAM SUNDARA (Sung by Lata Mangeshkar, Panditrao Nagarkar) Before early morning prayers i.e., KAKAD ARTI. OM SHRI SAINATHAYA NAMAH is mantra sung by Mahendra Kapoorji is also continuously played at Shirdi Sai Temple.

On September 27, 2008, he died following a cardiac failure, he is survived by his wife, three daughters and a son Rohan Kapoor alias Ruhan Kapoor.