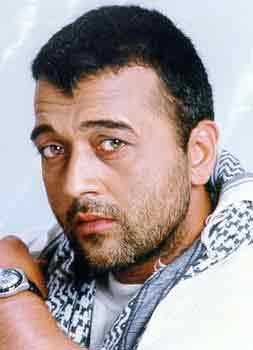 | | |
| --- | --- |
| Name | Maqsood Mehmood Ali |
| Height | |
| Naionality | Indian |
| Date of Birth | September 19, 1958 |
| Place of Birth | India |
| Famous for | Singing |
Lucky Ali , born as Maqsood Mehmood Ali is an Indian singer songwriter, composer and actor. Lucky is best known for his soulful but strikingly simple ballad-style singing and melodious voice.

Lucky Ali is the second of the eight children of the popular Muslim Bollywood comedian, Mehmood. His mother Mahelaka, was part Bengali and part Punjabi, the sister of a popular Indian actress of the 1960s - Meena Kumari. The Bollywood actress and dancer, Minoo Mumtaz,
was his paternal aunt. He attended Manekji Cooper (Kindergarten) (Juhu), Bombay Scottish School in Mumbai, Hampton Court in Mussoorie, St. George's College, Mussoorie, and Bishop Cottons Boys School, Bangalore.

Ali is known to be a strict Muslim. It has been reported he's told actresses such as Tabu to wear a hijab. Ali states his favourite piece of music is the Quran being recited.

His first composition was a three-chord lament called 'Nobody Loves Me'. Lucky Ali was gifted a guitar at age 13 and he taught himself to play it. Lucky became passionate about music but soon moved to horses, then to acting, and direction, further on to roughnecking on the rig Gettysburg now Badrinath owned by Great Offshore Limited, to washing carpets but finally returned to music.

Lucky made his debut on the Indian pop scene with the soulful album Sunoh which established him as a pop singer. This album won many of the top awards in Indian music, including the Best Pop Male Vocalist at the 1996 Screen Awards and the Channel V Viewers Choice Award in 1997. It stayed on the MTV Asia Charts for 60 weeks. The song O Sanam from Sunoh, launched his career and is considered by some to be one of the best indi-pop songs ever. His next album, Sifar, wasn't quite as successful as Sunoh, but it was noted for its music, lyrics and vocals.

Lucky Ali is known for his distinctive music style and also for his husky voice. His third album and fourth albums were Aks and Kabhi Aisa Lagta Hai, both of which were reasonably successful. After a five years hiatus, he released his new album Xsuie on the 19th of September 2009, on his birthday.

He is also known for contributing the song "Anjaani Raahon Mein" to the album "Meri Jaan Hindustan" which commemorated 50 years of Indian independence in the year 1997. The video was directed by Mani Shankar, and features him as a young urban man roaming the Indian countryside, trying to discover new meaning to life. When asked about the video, he once said "The video of 'Anjaani Raahon Mein' was a beautiful story in itself. It was done straight from the heart and it is very special to me."

His latest album is Xsuie, which he released on internet as he didnt want to just make money. Thus he decided not to go with any label and just to release his music as an independent artist.He also sung his first kannada song for a Kannada film 'Udyan Express'.

Lucky Ali started his Playback singing career with the song "Nasha Nasha" from the film Dushman Duniya Ka which starred his brother Manzoor Ali in the lead role. The film was directed by their father Mehmood. However the song and the film both went unnoticed.

After that, his next song in films was in Hrithik Roshan's debut movie Kaho Naa... Pyaar Hai.The songs Na tum jaano na hum and Ek pal ka jeena became huge hits and he won the Filmfare award (Best Male Playback Singer) for Na tum jaano na hum. The latest song by him was Bekarar in movie Paathshaala and later in Hairat in movie Anjaana Anjaani.

Being the nephew of Meena Kumari, one of the great actresses to grace the Indian screen, and moreover being Mehmood's son, Lucky Ali did not lack the requisite opportunity to make his debut as an actor. He acted in a few films in the 1970s and 1980s such as Yeh Hain Zindagi (1977) Hamare Tumhare (1979) and Shyam Benegal 's Trikaal (1985). He also acted in the television series Bharat Ek Khoj Directed by Shyam Benegal. After a long break from acting, he returned in Sanjay Gupta's Kaante (2002) where he acted along leading stars like legend Amitabh Bachchan, Sanjay Dutt, Kumar Gaurav and Suniel Shetty. Lucky also acted in the TV serial Zara Hatke. In 2002, he acted in the Hindi musical Sur-The Melody of Life essaying a complex role that earned him accolades as an actor.
His first wife is Meaghan Jane McCleary also known as Maymunah who accepted Islam after marrying Lucky Ali. She has acted in the video O Sanam from his first album Sunoh. Lucky Ali has two children from his first wife - Ta'awwuz and Tasmia. His second wife, Inaya (maiden name Anahita). Originally a Parsi, she also accepted Islam after marriage. Lucky Ali has two children from his second wife, Sara and Raiyan.

Lucky and his father Mahmood shared a tempestuous relationship. Mehmood was a very busy actor in 1960s and 70s, and remained away from home for his shoots. Once, around the age of five when Lucky's mother came with him to receive Mehmood at the airport, Lucky didn't recognize his father and on seeing him said, "He's the film comedian Mehmood!" Lucky lived away from his family in a boarding school up in the foothills of the Himalayas in Mussoorie. Lucky's tryst with marijuana led Mehmood to write the script of the movie Dushman Duniya Ka (Enemy of the World). The movie stars Ali's youngest brother,Manzoor. It is the story of the drug abuse of a young man called Lucky. In the end the young man kills his mother, destroys everything around him and is then killed by his father. Lucky differed with his father's vision and did not act in the movie. "I felt the story lacked hope," he said.However he sang his first song for the film.

Lucky's wanderlust has taken him many places. He has bred horses, been an oil rigger off the coast of Pondicherry in South India, is a farmer with a strong opinion on organic methods in farming. Music, singing and acting are his serious hobbies.