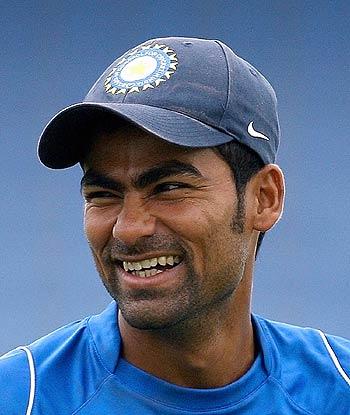 | | |
| --- | --- |
| Name | Mohammad Kaif |
| Height | |
| Naionality | Indian |
| Date of Birth | December 1, 1980 |
| Place of Birth | Allahabad, Uttar Pradesh, India |
| Famous for | Cricket |
He is a thinly built cricketer who made it to the national team on the strength of his performances at the Under-19 level, where he captained the Indian team to victory in the Under-19 World Cup in 2000.

Personal life Mohammad Kaif was born 1 December 1980 in Allahabad, Uttar Pradesh. The team management tend to use him in the middle order, though his successes have almost always come playing high up - at number 3 rather than at number 7. But given the number of players in that mold, such as Dravid, Raina and Yuvraj, Kaif found it difficult to play at the number 3 spot on a consistent basis.

In March 2006, he was recalled to the Test team in place of the injured Yuvraj Singh for the First Test against England in Nagpur. As of July 2005, Kaif was one of only five cricketers from Uttar Pradesh to have made it to the national side. As of 2009, the Indian team is well represented by Uttar Pradesh with as many as three regulars, Suresh Raina, Praveen Kumar and Rudra Pratap Singh in the ODI team. He also captained the national ODI team in the 2005-06 Challenger Trophy in the absence of regular captain Rahul Dravid. In April 2008, he was recalled to the Test squad for the Second Test against South Africa, but did not play.

Indian Premier League Mohammad Kaif represented the victorious Rajasthan Royals in the inaugual edition of the Indian Premier League in 2008. Kaif was bought for $250,000USD by Kings XI Punjab to play in 2010 Indian Premier League. Kaif was bought by Royal Challengers Bangalore to play in 2011 Indian Premier League, in the third round of bidding.