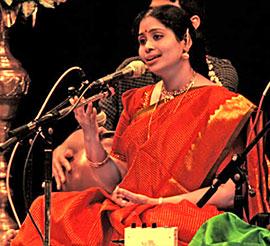 | | |
| --- | --- |
| Name | Nithyasree Mahadevan |
| Height | |
| Naionality | Indian |
| Date of Birth | August 25, 1973 |
| Place of Birth | |
| Famous for | Singing |
Dr. Nithyasree Mahadevan, (born August 25, 1973) also previously referred to as S. Nithyashri, is an eminent Carnatic musician and playback singer for film songs in many Indian languages. Nithyasree's paternal grandmother, D. K. Pattammal, and her granduncle, D. K. Jayaraman, were prominent Carnatic vocalists who were established disciples of Ambi Dikshithar, Papanasam Sivan, Muthiah Bhagavathar, and others. Nithyasree's maternal grandfather was the prominent mridangam maestro, Palghat Mani Iyer.

Nithyashree has performed in all major sabhas in India and has presented her concerts in many destinations around the world. She has received multiple awards and honours, and has released more than 100 commercial albums.

Nithyasree was born to Lalitha Sivakumar and I. Sivakumar. Her paternal grandmother was the Carnatic vocalist D. K. Pattammal, while her maternal grandfather was the mridangam maestro, Palghat Mani Iyer. Her granduncle was the Carnatic vocalist, D. K. Jayaraman.

Her mother, Lalitha Sivakumar, was her first guru (teacher). Like her mother, Nithyashree was also the disciple of D. K. Pattammal, and would accompany her in concert. Nithyashree's father, an accomplished mridangist and disciple of Palghat Mani Iyer, would constantly show his support and accompany Nithyashree when she performed.

Nithyashree has performed in all major sabhas all over India and has presented her concerts in the United States of America, Canada, United Kingdom, Australia, United Arab Emirates, Germany, France, Singapore, Malaysia and various other destinations throughout the world.

Nithyashree's maiden performance was titled 'best concert of the series'. She is an A.I.R. Prize Winner (1990) and has been an 'A' grade artist. She has been awarded the "Yuva Kala Bharathi" title by Bharath Kalachar in 1994, "Innisai Maamani" by Tamil Nadu Welfare Association, "Kalaimamani" by Hamsadhwani in 2000, "Isai Paeroli" by Kartik Fine Arts in 2001, and various other prestigious awards such as ", "Padma Sadhana" (2004), and "Naada Kovida" (2006). She has received "Best Concert Award" from The Music Academy during the music festivals a couple of times and has also performed for the "Sangeeth Natak Academy" twice in their International Music Festivals in Bombay and Hyderabad. She has also received the "Best Promising Artiste" from "Mohanam" Music Club, and made a thematic album of compositions popularising the raga Mohanam. She was awarded a doctorate degree from Sathyabama university of Jeppiar in Chennai in late 2007.

Nithyashree's first Carnatic performance was for the Youth Association For Classical Music on 10 August 1987. The concert lasted 1 hour, and was scheduled between 6:00pm and 7:00pm. Prominent Carnatic musicians that were present at the concert, included D. K. Pattammal, D. K. Jayaraman, Vijay Siva, R. K. Sriramkumar, as well as the chief guest at that concert, K. V. Narayanaswamy.

She has given numerous concerts consisting of only patriotic songs to commemorate the 50th year of Indian Independence, a few with D. K. Pattammal before her grandmother stopped performing in public.

D. K. Jayaraman and D. K. Pattammal were known for singing and popularising the compositions of Papanasam Sivan, having learnt them directly from the composer himself. Nithyashree has continued this tradition. She has also given a lecture demonstration in Coimbatore for Manoranjitham on "Papanasam Sivan - A Legend", and made two special thematic albums that solely contained his compositions.

Like D. K. Pattammal, Nithyashree has also popularised compositions of Gopalakrishna Bharathi. She presented a paper on the Life and Contribution of Gopalakrishna Bharathi for the Music Department of PSG College, Coimbatore. Her two thematic albums that solely consisted of his compositions have been very popular, both online and offline. Nithyashree's commanding, high-pitched voice is well suited to various genres of music including Carnatic music, devotional music, as well as patriotic and popular songs.

Nithyashree's introduction to Tamil playback singing came when A.R. Rahman called her to Panchathan Recording Inn, in Chennai, for a voice test sometime in the 1990s. The output from her visit was used for the song "Kannodu Kanbadellam" in the movie Jeans starring Aishwarya Rai and Prashanth. This became particularly popular which resulted in many songs in the same combination like "Minsara Kanna" from Padayappa, "Sowkiyama Kannae" from Sangamam, and "Manmatha Maasam" from Parthale Paravasam.

Some of her other songs include "Kumbakonam Sandhayile" from New, "Oru Nadhi Oru Pournami" from Samurai (film), "Kana Kaangiren" from Ananda Thandavam as well as "Thaai Thindra Mannae" from the film Aayirathil Oruvan.She also successfully branched out to Telugu and Kannada playback singing, with songs such as "Ra Ra..." from Apthamitra.