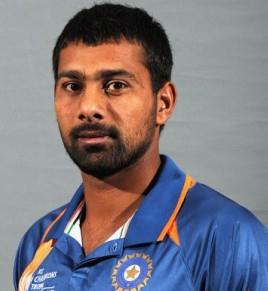 | | |
| --- | --- |
| Name | Praveen Kumar |
| Height | 5' 11" |
| Naionality | Indian |
| Date of Birth | 2 October 1986 |
| Place of Birth | Meerut, Uttar Pradesh, India |
| Famous for | Cricket |
Praveen Kumar, born 2 October 1986 in Meerut, Uttar Pradesh, India) is an Indian swing bowler who bowls medium pace. India's ODI specialist Praveen Kumar will marry his childhood sweetheart Sapna in Meerut on November 18. Due to his upcoming marriage.

Praveen would not be playing in Uttar Pradesh's next Ranji Trophy away-encounter against Baroda from November 17. For Praveen, November 18 turned out to be a convenient date as he is not a part of the national team that's currently playing Test series against New Zealand. The Indian team will be playing the third Test from November 20. First Class Praveen Kumar plays his domestic cricket for Uttar Pradesh. Indian Premier League Although he was not part of the player auction, Praveen played for Royal Challengers Bangalore in BCCI's Indian Premier League in the inaugural Twenty20 cricket tournament.

3Harbhajan 7Dhoni (c) 45Rohit 12Yuvraj 26Jadeja 28Yusuf 5Gambhir 24Chawla 08Vijay 64Nehra 48Raina 46Yadav 23Vinay 34Zaheer 1Karthik 8Praveen Coach:Kirsten Praveen Kumar was injured and replaced by Umesh Yadav halfway through the tournament.