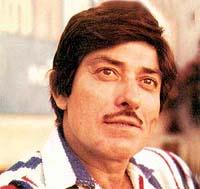 | | |
| --- | --- |
| Name | Raaj Kumar |
| Height | |
| Naionality | Indian |
| Date of Birth | October 8, 1926 |
| Place of Birth | Loralai, Balochistan, British India |
| Famous for | Acting |
Raaj Kumar (8 October 1926 – 3 July 1996) was an Indian actor in Hindi movies. Raaj Kumar started out as sub-inspector of Mumbai police in the late 1940s before he turned to acting with the 1952 film Rangili. He appeared in the Oscar-nominated 1957 film Mother India and went onto star in over 70 Hindi films in a career that spanned over four decades.

He was born as Kulbhushan Pandit in Loralai, Balochistan now in Pakistan, into a Kashmiri Pandit family. In the late 1940s he moved to Mumbai, India where he became Sub-inspector of the Mumbai police. He married Gayatri in the 1960s with whom he had three children, two sons named Puru Raajkumar (a Bollywood actor), Panini Raajkumar and a daughter named Vastavikta Raajkumar, who made her screen debut in 2006 film Eight Shani.

In the early 1950s, he changed his name to Raaj Kumar, quit his job as a police inspector and turned to acting. He made his acting debut in Rangili (1952). After acting in a few more films over the next five years he starred in Mehboob Khan's Mother India (1957).

His performances include Shararat (1959), Paigham (1959), Dil Apna Aur Preet Parayi (1960), Gharana (1961), Dil Ek Mandir (1963), Waqt (1965), Hamraaz (1967), Neel Kamal (1968), Pakeezah (1972), Lal Patthar (1971), Heer Ranjha (1971), Hindustan Ki Kasam (1973), Ek Se Badh Kar Ek (1976), and Karmyogi (1978). He received Filmfare Best Supporting Actor Awards for Dil Ek Mandir and Waqt.

During the 1980s he appeared in Chambal Ki Kasam (1980), Kudrat (1981), Ek Nai Paheli (1984), Marte Dam Tak (1987), Jung Baaz (1989) and Police Public (1990).

In 1991 he appeared alongside Dilip Kumar in Saudagar. His last film appearance was in God and Gun (1995). He was best known for his famous dialogue delivery, which resulted in many memorable lines becoming proverb, and often referred to people as Jaani.

He died at the age of 69 on July 3, 1996 of throat cancer. He died a few months before his son Puru Raajkumar made his debut in Bal Brahmachari, which was released later that year. It was dedicated to his memory.