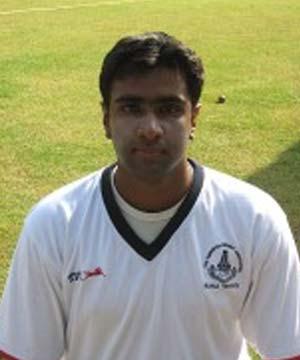 | | |
| --- | --- |
| Name | Ravichandran Ashwin |
| Height | |
| Naionality | Indian |
| Date of Birth | 17 September 1986 |
| Place of Birth | Madras, Tamil Nadu, India |
| Famous for | Cricket |
In this Indian name, the name Ravichandran is a patronymic, not a family name, and the person should be referred to by the given name, Ashwin. Ravichandran Ashwin ( born 17 September 1986) is an Indian national cricket team player, who plays for India and Tamil Nadu cricket team. He played two matches for team India during world cup, 2011. Ashwin is an all-rounder for Tamil Nadu and has taken 6/64 against Vidarbha in first-class cricket. He plays first-class cricket for Tamil Nadu and has played in the Duleep Trophy for South Zone.

He played for Chennai Super Kings in the 2010 Indian Premier League. Later, in that month he was selected in the ICC Cricket World Cup 2011 squad to represent India along with the spinners Harbhajan Singh and Piyush Chawla. He played 2 matches for India in that series. He made his World Cup debut on 20 March 2011 against the West Indies with bowling figures of 10-0-41-2. He played his second world cup match against Australia in the second quarter final at Ahmadabad (10-1-52-2). In the IPL 2011 Saurabh Tiwary hit the ball back at Ashwin and it hit Ashwin in the head, he was taken off the pitch immediately for a scan but no injuries happened. His best friends are local Chennai cricket buddies - Murali Vijay, Subramaniam Badrinath, Anirudha Srikkanth and Lakshmipathy Balaji.