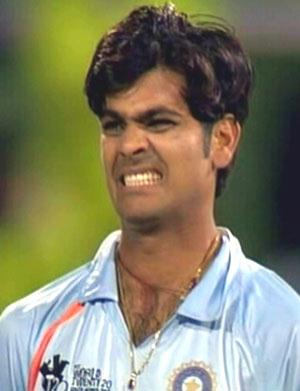 | | |
| --- | --- |
| Name | Rudra Pratap Singh |
| Height | |
| Naionality | Indian |
| Date of Birth | 6 December 1985 |
| Place of Birth | Purebala, Barabanki, Uttar Pradesh, India |
| Famous for | Cricket |
Rudra Pratap Singh About this sound pronunciation (help·info) (born 6 December 1985 in Purebala, Barabanki, Uttar Pradesh, India is a left arm fast-medium bowler who has represented India in one day cricket, T20 and Test cricket. He is playing for Koc...hi Tuskers Kerala for 2011 IPL. Singh was selected to make his Test debut in the 2nd Test against Pakistan in Faisalabad, Pakistan in January 2006. He won the man of the match award on his debut after taking 5 wickets in the match. Singh's 4 wicket-haul in the fourth match of the one-day series against Pakistan in 2006, helped India take an unassailable 3-1 lead in the series, and won him the man of the match award. India went on to win the series 4-1. In his first 11 ODI matches, he was awarded the man of the match award 3 times. Singh was selected to play in the 2007 ICC World Twenty20 tournament in South Africa in September 2007. Singh emerged as the second-highest wicket-taker in the entire competition, taking 12 wickets in 7 matches at an average of 12.66 runs per wicket. India won the 12-nation tournament after beating Pakistan in the final. R.P. Singh's best figures were 4/13 in 4 overs in India's final Super-8 stage He plays for the Kochi Tuskers in the Indian Premier League, after signing for them in 2011 from the Deccan Chargers. In his second season of the tournament Singh was highly successful for Singh as he emerged as the highest wicket taker of the tournament, with 23 from 16 matches thereby winning the Purple Cap. He is also the leading all time wicket taker in Indian Premier League with 60 wickets.