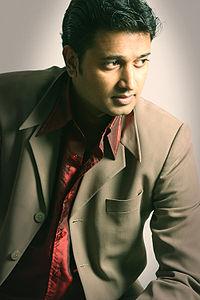 | | |
| --- | --- |
| Name | Saandip |
| Height | |
| Naionality | Indian |
| Date of Birth | 5th August, 1978 |
| Place of Birth | |
| Famous for | Acting |
Saandip is a popular Indian singer and actor. He has given playback to Tollywood and Bollywood movies. He has acted in "Premayanamaha" and "Inkosaari". He was the first South Indian to participate in the Popular TV Show ZEE SAREGAMAPA (Revived from Zee SAREGAMA) anchored by Shaan in 2003 and won many accolades from the musical geniuses of the bollywood.

Saandip has got various hits to his credit like "Nagundelo neevundipova" – Nuvvu Nenu, "Nalo nenu" – Aunu Valliddaru Ishtapaddaru, "Manava Manava" – Anji, "America America" - Premayanamaha and the recent hit "Dola re dola" – Arundhati. He started his singing career with the movie "Chitram" with song " Kukka kavali".The movie was a blockbuster and then, offers started pouring in and he got to work with top music directors of Telugu and Tamil film industry like R.P.Patnaik, M.M.Keeravani, Koti, Manisharma, Devisriprasad, Chakri, Madhavpeddi Suresh, Vasu Rao, Yuvan Shankar raja, Ravi Pawar etc. He gave playback for more than 90 movies and sung for more than 600 Private/Devotional Albums. He got introduced as an actor with the movie "Premayanamaha- love is god" and got critical acclamation. With His latest movie "Inkosaari" he has proved himself as an actor of great potential and won rave reviews about his performance in the character of Vicky. He has to his credit more than 700 stage performance where he won the hearts of audiences with not only his melodious and soothing voice but also with a lively and electrifying stage persona.

Saandip was born to B. Swami Nath and B. Janaki Nath in Vijayawada, Andhra Pradesh. He is the younger son in the family; his brother Sirish is a IT professional. He spent his childhood in Maharashtra (Wardha, Sholapur) and Madhya Pradesh (Bhopal). He did his schooling in Kendriya Vidyalaya all throughout, till 1991 in Bhopal and then from 1991-1997 in Hyderabad uptil 12th standard. Then he moved to Bangalore to pursue his graduation and did B.E in Telecommunications from Bangalore Institute of Technology BIT from 1997 to 2000. He has been a bright student throughout his academics and passed out with distinction always.

Saandip took to singing as a hobby during his childhood. He developed an interest in music very early in his life, while listening to his elder brother Sirish. Because of his father's Railway job he was brought up in Maharashtra (Wardha , Sholapur) and stayed in Bhopal, Madhya Pradesh from 1981 to 1991. He did his schooling in Kendriya Vidyalaya in Bhopal. Since school days only he was a bright student and used to participate in all the singing competitions and won many prizes. He came to Hyderabad in 1991 where his musical journey got ignition when he joined the tutelage of Dr. Shobha Raju (Annamacharya Pada Kokila) in 1994. He honed his singing skills under the able guidance of Dr. Shobha Raju, and even stood as Gold medalist in Annamacharya Keeratanas at National level in 1996. He started giving many stage performances with Swaramadhuri musical troupe led by yesteryear singer G. Anand.