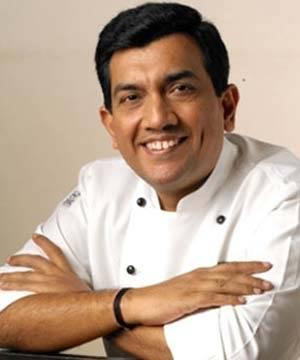 | | |
| --- | --- |
| Name | Sanjeev Kapoor |
| Height | |
| Naionality | Indian |
| Date of Birth | April 10, 1964 |
| Place of Birth | Ambala, India |
| Famous for | Indian Chef, entrepreneur and Television host |
Sanjeev Kapoor is a top rated Indian Chef and television personality. He is best known as the author of numerous Indian style cookbooks and the host of Khana Khazana, a popular cookery program shown on the Zee television network since 1993. The show completed over 650 episodes as of February, 2007. Born in Ambala, India, Kapoor started out in the hospitality industry in 1984 with a diploma in Hotel Management from Institute of Hotel Management Catering Technology Applied Nutrition, Pusa Road, New Delhi.

He started his career in the ITDC under their kitchen management program where he graduated at the top of his class. After working in many hotels, he became the Executive Chef of the Centaur Hotel in Mumbai (Bombay). His television show won the Best Cookery Show Award given by the Indian Television Academy (ITA) in 2001.

He was also the recipient of the Best Executive Chef of World Award by H FS and the Mercury Gold Award at Geneva, Switzerland by IFCA. Singapore Airlines recruited him as one of the members of its "International Culinary Panel", helping to create a meal called Shahi Thali in 2006 . His other accolades include the "Brand Leadership" award at the 5th Indira Awards for Marketing Excellence 2006, and the 'Hall of the Fame Award' under the aegis of The Star of the Industry Awards for excellent contribution to the field of hospitality. In 2006 he decided to remove his moustache. Richard Quest, celebrity CNN journalist, selected Sanjeev Kapoor as one of the top celebrity chefs in the world along with Gordon Ramsay, Jamie Oliver and Wolfgang Puck and featured them in his programme "Quest" on the CNN International channel.

He was one of the chief speakers/presenters at the Worlds of Flavor, 2005 International Conference Festival organized by The Culinary Institute of America. As a restaurant consultant he has granted his franchise to a number of restaurants both in India and abroad. In 2006, he participated in a the dance show Jhalak Dikhla Ja, on Sony Entertainment Television.