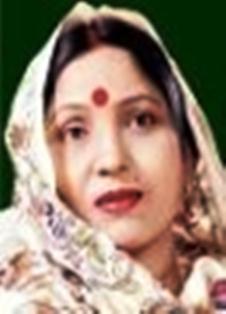 | | |
| --- | --- |
| Name | Sharda Sinha |
| Height | |
| Naionality | Indian |
| Date of Birth | October 9, 1952 |
| Place of Birth | |
| Famous for | Singing |
Sharda Sinha sings Maithili and Bhojpuri songs, has received Padma Shri for her contribution to music. Prayag Sangeet Samiti organised Basant Mahotsava at Prayag where Padma Shri Sharda Sinha presented numerous songs based on the theme of spring season, where the advent of spring was narrated through folk songs. She regularly performs during Durga Puja festivities. She performed when the Prime Minister of Mauritius Navin Ramgoolam came to, Bihar. She has sung in many movies such as Maine Pyar Kiya and Hum Aapke Hain Kaun and has also produced several music albums such as Dulhin, Pirittiya and Mehndi. Bihar 'kokila' Sharda Sinha performed at Pragati Maidan in the Bihar Utsav, 2010, New Delhi. Sinha started the programme with her patriotic song "Maiya bharti pukarela jawan babua tora hathawa mein deshwa ke shaan babuwa". Her other songs, included "Paniya ke jahaj se paltaniya bani ahiya piya lele ahiya ho sindurwa Bengal Ke," "Kahe to se sajani hamaar jogiya," "Sutal chaliya baba ke bhawanwa," "Sun ho pardesia," "Sasuji se lutri," "Apna sajaniya ke" and "Dulhin dhire dhire chalio."

She has one son and one daughter. Son Ashu is a Web Designer and daughter Vandana is married to Sanju Kumar, Vice President (Legal), Yes Bank and lives in New Delhi with her three years old daughter Anushka.