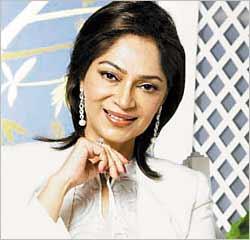 | | |
| --- | --- |
| Name | Simi Garewal |
| Height | |
| Naionality | Indian |
| Date of Birth | 17 October 1947 |
| Place of Birth | Delhi, India |
| Famous for | Acting |
Simi Garewal (born 17 October 1947 ) is an Indian actress. She is known for her work in Mera Naam Joker, Siddhartha and Karz.Simi Garewal was born in a Jatt Sikh family in Delhi, her father, J S Garewal served in the army rising to the rank of brigadier. Simi grew up in England and studied at Newland House School with her sister Amrita.

After spending much of her childhood in England, Garewal returned to India while a teenager. It was her felicity with the English language that induced the makers of the English-language film Tarzan Goes to India to offer her a role. A gangly 15-year-old at the time, Garewal made her debut alongside Feroz Khan in this film in 1962.

Her performance here was good enough for her to receive many more film offers, and during the 1960s and '70s, she worked in several notable Indian films, working with leading directors such as Raj Kapoor in Mera Naam Joker (1970), Satyajit Ray in Aranyer Din Ratri (Days and Nights in the Forest), Mrinal Sen in Padatik (The Guerilla Fighter) and Raj Khosla in Do Badan.

She also starred opposite Shashi Kapoor in Columbia Pictures' Siddhartha, an English-language movie based on the novel by Herman Hesse. Garewal did a semi-nude scene in this film which caused some controversy in India. Later, in the mid-1970s, she made an appearance in the popular film Kabhi Kabhie (1976), made by her brother-in-law Yash Chopra, and had a starring role in Chalte Chalte (1976). Another notable role she played was as a vamp in Karz (1980). She also starred in the BBC docu-drama Maharajas (1987), based on the book by Charles Allen.

In the early 1980s, her attention turned to writing and direction. She formed her own production company, Siga Arts International. She hosted, produced and directed a TV series for Doordarshan called It's a Woman's World (1983).

She also made a documentary for Channel 4 in the UK called Living Legend Raj Kapoor (1984). This was followed by a 3-part documentary on Rajiv Gandhi titled India's Rajiv. She also wrote and directed a Hindi feature film Rukhsat and produced television commercials, for which she won the 1st Prize from the 1988 Paters Award in Australia.

Garewal also anchored the talk show Rendezvous with Simi Garewal.She usually wears her signature white clothes on TV shows and at award ceremonies, and is popularly known as "The Lady in White". Garewal recently appeared on Say Shava Shava 2008 as a host and judge. After the Mumbai terrorist attacks of November 2008, Simi Garewal caused a starm of criticism in India and abroad by publicly calling for the Indian government to "carpet-bomb" the terrorist camps of its neighbour, Pakistan.

She has recently returned on Television with her new talk show India's Most Desirable on Star Plus which would interview Bollywood actors, business & media icons and Indian cricketers about their "ideal and desirable beaus".

In the early 1980s, Simi Garewal had a year long affair with Salman Taseer a renowned Pakistani businessman and later Governor of Punjab, Pakistan. Simi Garewal was married but is divorced. She was married to Ravi Mohan, however the marriage did not last long.

Popularity: Simi Garewal is a popular TV host and has acted in few bollywood movies. In 1972, for her nude scene in Siddhartha with actor Shashi Kapoor, the movie couldn't be released in India due to censorship and created controversy.