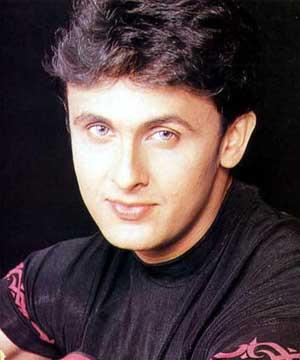 | | |
| --- | --- |
| Name | Sonu Nigam |
| Height | |
| Naionality | Indian |
| Date of Birth | 30 July 1973 |
| Place of Birth | Faridabad, Haryana, India |
| Famous for | Singing |
Sonu Nigam (born 30 July 1973) in Faridabad, Haryana, India) is an Indian playback singer whose songs have been featured in numerous Hindi movies, as well as films in Assamese, Punjabi, Bengali, Marathi and Kannada language. He has also released numerous Indi-pop albums and acted in a few Hindi feature films. He had changed the spelling of his last name from 'Nigam' to 'Niigaam' in accordance with numerology, but could not get desired results; he returned to the old spelling 'Nigam'.

Sonu Nigam began his singing career at the age of three, when he joined his father on stage to sing Mohammed Rafi's "Kya Hua Tera Vaada, Wo Kasam Wo Irada." From then on Sonu accompanied his father on his singing appearances at weddings and parties. In his teenage years he successfully participated in several music competitions. He moved to Mumbai with his father to begin his Bollywood singing career at the age of 19.

His initial years in Mumbai proved to be a struggle, beginning by singing covers of Mohammad Rafi songs, mainly for a number of Rafi Ki Yaadein albums released by T-Series. T-Series promoter Gulshan Kumar played a key role in identifying Nigam's talent by giving him a chance to reach a larger audience. These albums contributed to T-Series for some years although Nigam's singing style was regarded by some to be like that of a "Rafi clone". Nigam's first movie song as a playback singer was Janam (1990), which was never officially released. He also got a break in radio commercials until he appeared on the popular TV show Sa Re Ga Ma, after which there was no turning back. He was trained by classical singer Ustad Ghulam Mustafa Khan.

Nigam started hosting Sa Re Ga Ma in 1995 with the first episode airing on 1 May 1995. The television singing talent competition soon became one of the most popular shows on Indian television. Soon after, he sang "Accha Sila Diya" on the album Bewafa Sanam (1995), which was very successful. Singing offers started pouring in thereafter, albeit slowly at first. He rose to fame with the Anu Malik-composed song "Sandese Aate Hain," in Border in 1997. Sonu's image as a 'Rafi clone' changed after his rendition of the Nadeem-Shravan-composed song "Yeh Dil Deewana" in Pardes in the same year. Since then, he has created a unique style and has become a role model for emerging vocal talent in India.

Over the years, Nigam has become a major force in the Indian music industry. He has provided playback singing for a large number of Hindi movies and won many awards. His rendition of the title song of the film Kal Ho Naa Ho has been highly popular. He is recognized for his singing of romantic, rock, sad, and patriotic songs. Nigam has sung songs in many languages besides Hindi, including Kannada, Bengali, Oriya, Punjabi, Tamil, Telugu, English, Bhojpuri, Urdu, Nepali, Chhattisgarhi, Malayalam and Marathi. His Kannada album Neene Bari Neene released in 2009.

Sonu has released a number of pop albums, in Hindi, Punjabi and Kannada. The most recent addition to his Hindi releases is Classically Mild, a semi-classical album. He has also released Hindu and Islamic devotional albums, as well as albums of Mohammed Rafi's songs. These are from the Rafi Ki Yaadein collection in his early years, which have been re-released in September 2007 as a six-disc collection of 100 songs, titled Kal Aaj Aur Kal, in Mohammed Rafi's memory.

In 2008, soon after releasing Classically Mild, he released a single Punjabi track called "Punjabi Please" and Rafi Resurrected, a two-disc collection of Mohammed Rafi songs with music by the Birmingham Symphony Orchestra. He has contributed to the lyrics of several of his album songs and directed the music for his album Chanda Ki Doli. His last album was Neene Bari Neene in Kannada.

After the death of Michael Jackson, of whom Sonu Nigam is a huge fan and who has considerably influenced his singing (as is evident in his rendition of "Dil Deewana" in Pardes), Nigam released a tribute song to Jackson in collaboration with his fans on Facebook. The song made it to an 18-song global compilation of tribute songs CD The Beat of Our Hearts.

Over the years, Nigam has given concert performances in many countries, including United States, Canada, UK, France, Germany, Belgium, Holland, Spain, Australia, New Zealand, Pakistan, Nepal, Bangladesh, Russia, Afghanistan, UAE, Kuwait, Saudi Arabia, Thailand, Indonesia, Singapore, Malaysia, West Indies, Suriname, Mauritius, Nigeria and South Africa. In May/June 2007, he participated in a star-studded show in North America called "The Incredibles," in which Asha Bhosle, Kunal Ganjawala and Kailash Kher participated.

In September and October of the same year, he gave solo concerts titled "Simply Sonu" in Canada and Germany (becoming the first Indian singer to perform in the latter country). In April 2008, he did a marathon of concerts in cities in India, promoting his Punjabi single "Punjabi Please".

In November 2007, at the inauguration of Harvard University's 28th president, Dr. Drew Gilpin Faust, Nigam sang Mahatma Gandhi's favorite bhajan, "Vaishnav Jan To Tene Kahiye", with the Harvard College Sangeet. In July 2008, he participated in a three-city tour of the United Kingdom, singing Mohammed Rafi songs with the City of Birmingham Symphony Orchestra. This followed the release of these songs by the CBSO and the Indian music company Sa Re Ga Ma in the album Rafi Resurrected.

Amongst several other concerts, he notably participated in a US tour with Sunidhi Chauhan in 2009 called "The Explosion 2009" tour and in a UK tour titled "All Izz Well" in November 2010.