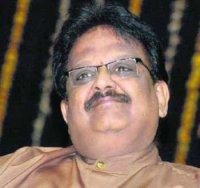 | | |
| --- | --- |
| Name | Sripathi Panditaradhyula Balasubrahmanyam |
| Height | |
| Naionality | Indian |
| Date of Birth | 4 June 1946 |
| Place of Birth | |
| Famous for | Singing |
Sripathi Panditaradhyula Balasubrahmanyam (born 4 June 1946) is a multilingual Indian playback singer, actor, music director, voice actor and a film producer. He is referred to as S. P. B. or Balu by the media. He has won the National Film Award for Best Male Playback Singer six times closely following K. J. Yesudas. He has sung over 40,000 songs in 15 Indian languages with a career spanning over 4 decades. Starting his career in 1966, he went on to become one of the leading playback singers of his time in India. He is the only playback singer in India to have won National Film Awards across four languages. He has also won a Filmfare Award, three Filmfare Awards South and numerous state awards from Andhra Pradesh, Tamil Nadu and Karnataka. He holds the record of having recorded the most number of songs for any male playback singer. He is a recipient of the civilian awards such as Padmashri (2001) and Padma Bhushan (2011) from the Government of India.

Balasubrahmanyam was born to S. P. Sambamurthy in Konetammapeta of Nellore district in Andhra Pradesh. Balasubrahmanyam's father was a Harikatha artist who had also acted in plays. He has two brothers and five sisters. He is the elder brother of singer S.P. Sailaja. He is married to Savitri and has two children, Pallavi and S. P. B. Charan who is a playback singer and film producer as well.

Balasubrahmanyam developed an interest towards music at an early age, studied notations and learned to play instruments such as the harmonium and flute on his own while listening to his father. His father wanted him to become an engineer, which brought him to Anantapur, where he enrolled for the Engineering course at JNTU College of Engineering Anantapur. Later he discontinued the course due to typhoid, and then joined as an Associate Member of the Institution of Engineers, Chennai. Meanwhile, he also pursued his hobby and won awards at many singing competitions. In 1964, he won the first prize in a music competition for amateur singers organised by the Madras-based Telugu Cultural Organisation, and earned his first opportunity from music director S. P. Kodandapani.

After dropping out of enginnering, Balasubrahmayam used to regularly visit music composers seeking for opportunities to sing. The first song that he sang for an audition was, "Nilave Ennidam Nerungadhe", a melody rendered by veteran playback singer P. B. Srinivas. It was P. B. Srinivas who used to write and give him some multi-lingual verses in Telugu, Tamil, Hindi, Kannada, Malayalam, Sanskrit, English and Urdu.