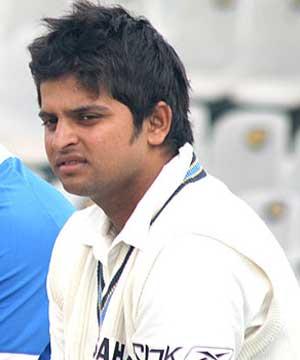 | | |
| --- | --- |
| Name | Suresh Kumar Raina |
| Height | |
| Naionality | Indian |
| Date of Birth | 27 November 1986 |
| Place of Birth | Ghaziabad, Uttar Pradesh |
| Famous for | Cricket |
Suresh Kumar Raina (born 27 November 1986) is an Indian cricketer from Gaziabad UttarPradesh. His family comes from a town of Rainawari, in Jammu & Kashmir. Raina has been a member of the Indian cricket team for ODIs since July 2005, and was included in the Test squad in early 2006, but did not make his test debut until the second test against Sri Lanka on the 26th July 2010.

Domestically, he plays for Uttar Pradesh in the Ranji Trophy and Central Zone in the Duleep Trophy. He is an attacking left-handed batsman, and a renowned fielder who is known for his ability to hit the stumps from the infield. He is also an occasional off spinner. Suresh Raina was the youngest in a Kashmiri Pundit family of five children, who have origins in the Rainawari quarter of Srinagar, a city in the Indian-administered Jammu & Kashmir. Raina decided to take up cricket seriously in 1999, and moved from his city.