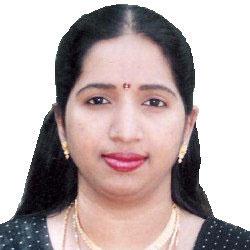 | | |
| --- | --- |
| Name | Swarnalatha |
| Height | |
| Naionality | Indian |
| Date of Birth | 1973 |
| Place of Birth | |
| Famous for | Singing |
Swarnalatha (1973 – 12 September 2010) was a Indian playback singer. From 1987 onward, she rendered nearly 7000 songs in many languages including Tamil, Kannada, Telugu, Hindi, Malayalam, Urdu, Bengali, Oriya, Punjabi and Badaga.

She won the National Film Award for Best Female Playback Singer for her rendition of the song "Porale Ponnuthayi" from the film Karuththamma. The song was composed by A. R. Rahman, under whose musical direction she recorded many memorable songs.

Her distinctive voice, which could effortlessly reach high octaves, quickly made her a name to reckon with in the playback music industry. She was born in Athikkodu near Chittur, Palakkad, Kerala, to K. C. Cherukutty and Kalyani. Her father was a good harmonium player and singer. Her mother also had interest in music.

Swarnalatha was trained on the harmonium and keyboard.Swarnalatha's family later moved to Bhadravathi (Paper Town) in Shimoga District, where she had her education.Born in a family of musicians (father K. C. Cherukutty was a singer and harmonium player, while sister Saroja was her music guru initially). Swarnalatha took to music when she was in her teens. She opened her account in films when M. S. Viswanathan introduced her in a duet with singer Dr. K. J. Yesudas.

The song was Bharathiar's "Chinnanchiru Kili ye" , for the film Neethikku Thandanai in 1987. In 1987, she shifted to Chennai, where she met M. S. Viswanathan. M.S.V. introduced her to the film industry through a duet with K. J. Yesudas, "Chinnanchirukiliye Kannamma" from the film Neethikku Dhandanai.Subsequently, many other music directors approached her to perform their songs. She was recruited by legendary musicians like Ilaiyaraaja and A. R. Rahman. She also recorded a few Hindi songs, the most notable one being "Hai Rama Yeh Kya Hua" from Rangeela along with Hariharan.

She was one of the most versatile singers of her times, as she was able to sing melodies like "Maalayil Yaaro Manathodu Pesa" from Chatriyan or "Porale Ponnuthayi" from Karuthamma as well as Rahman's experimental songs like "Mukkabla" from Kadhalan or "Mottu Vittadha" from Pavithra. Swarnalatha was the first female playback singer to fetch the National Award in A. R. Rahman's music for the song "Porale Ponnuthayi". Once in an interview, she said that she was moved to tears when she finished the recording of this song and received praise from A. R. Rahman. She recorded many other memorable songs with music directors Deva, Vidyasagar, Harris Jayaraj, Anu Malik, Shankar-Ehsaan-Loy, Raj-Koti, Yuvan Shankar Raja, Mani Sharma, Hamsalekha and many others.

She had sung all the songs of Lata Mangeshkar and Shamshad Begum in the movie Anarkali(Tamil dubbed version of the Hindi movie mughal-e-Azam) and she was praised by the acclaimed bollywood music director late Naushad Ali. Swarnalatha was a very quiet and shy woman. She was very camera shy too. Her musical concerts were quite straight, with only her music doing the talking. Once in an interview, her brother said that she knew nothing in this world except the music.

She dedicated her entire life to music.Her calmness and character were liked by so many people in the music industry and her fans. Swarnalatha was a great being, who only concentrated on her work and nothing else. Swarnalatha is a demure and silent person. In a recent interview, singer Sujatha Mohan has stated " Swarnalatha will listen to the song just once and she will be able to deliver it in such a beautiful way.

Her style of singing too is very unique and distinct, and through that she was able to bring a different but special feel to her songs. Her pitching was perfect and she can get her job done in just two or three recordings for a song in studio. When recording for "Mellisaiye" in Mr Romeo, she was very much reserved and she hardly talked much. Either she will give a short reply or she will just laugh in response to anything we say to her.

Even though I never had a chance to be close friends with her, me and the other singers who worked with her all have a soft spot for her, probably because of her character or her diligence in her work." Singer Anuradha Sriram has said "Whenever I listen to the Porale Ponnuthayi song, I really feel a lot of respect for Swarnalatha ma'am. A lot of credit must go to her for this. She gave her best in this song and even though she is no more with us, I feel her legacy remains within this song and also her other memorable numbers.

One of the best singers we've ever had." Everyone thought that Swarnalatha must be a Tamilian from her accurate pronunciation of Tamil that was evident in her very first song. In exactly the same way whether she sang in Hindi, Kannada, Telugu or Malayalam, people of these respective languages thought that their language was her mother tongue. She sang with accurate pronunciation in Bengali as well! There is not an iota of doubt that, among singers, after P.Suseela, Vani Jayaram & S Janaki, Swarnalatha alone sang without pronunciation mistakes grasping the nuances of the language, whichever the language she sang in.

It is difficult to imagine 'Porale Ponnuthayi' number in the voice of any other singer. No other singer could have brought to the song either in quality or degree anything like the penetrating pain and sadness that Swarnalatha was able to bestow on it. Swarnalatha had said that she wept uncontrollably in many places while recording the song. Swarnalatha swept both the National Award and the State Award as the Best Singer for this song. Swarnalatha had even sung for the famous Hindi composer Naushad!

The legendary Hindi film Mughal-e-Azam which was released in 1960 with Naushad's score was reconstructed in colour and released in 2004. It was also released in Tamil as Anaarkali.

Swarnalatha was the female voice for the songs in the film. Swarnalatha created a stir by singing in two different voices the song 'Kana Neram Unadharuge' which was the Tamil version of the Hindi song 'Mehfil Mein Kismat'. In the original song Lata Mangeshkar and Shamshad Begum had sung the song to which Madhubhala and Nigar Sultana had danced. But in Tamil, Swarnalatha sang for both the dancers in two voices that brilliantly matched them. Naushad who came to Chennai for the Audio release for this film blessed Swarnalatha praising her amazing feat.

Swarnalatha died at a private hospital in Chennai at the age of 37 due to cardiac arrest followed by interstitial lung disease (lung infection) after being admitted because she had difficulty in breathing. The singer had been undergoing treatment for lung infection for over a year and had not recorded for films during the period. Legendary music composer M S Viswanathan, who gave the then 14-year old Swarnalatha a break in films, described her as a very talented singer. She is believed to have approached him first, when she wanted to launch her career in film music. He gave her a chance in the film Needhikku Thandanai.

"I was shocked on hearing the news. Swarnalatha was introduced to films by me, and was highly talented in music" he said. She got Kalai Maamani by Government of Tamil Nadu before she was 20 years old. She won the Filmfare Awards in Hindi for the years 1996 and 2000 for her songs 'Hai Rama' and 'Suntha Hai Mera Khuda' respectively. She won a Filmfare Award in Tamil as well for 'Mukkala Muqabala'. She won Cinema Express Awards four times.