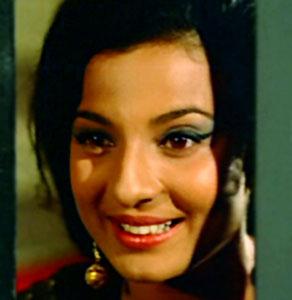 | | |
| --- | --- |
| Name | Tanuja Mukherjee |
| Height | |
| Naionality | Indian |
| Date of Birth | September 23, 1943 |
| Place of Birth | Mumbai, Maharashtra, India |
| Famous for | Acting |
Tanuja Mukherjee, popularly known as Tanuja (23 September 1943) is an Indian film actress. She is the mother of Kajol and Tanisha, and is most remembered for her roles in Hindi films like Baharen Phir Bhi Aayengi (1966), Jewel Thief, Haathi Mere Saathi(1971), Anubhav 1971). Simultaneously she also appeared in Marathi, Bengali and Gujarati films like, Zaakol (Marathi), Antony Phiringee (Bengali), Deya Neya, Teen Bhuvaner Parey (1969), Prothom Kadam Phool, Rajkumari.

Tanuja was born in Mumbai into a Marathi family of four children as Tanuja Samarth to poet Kumarsen Samarth and his wife Shobhna Samarth. Her mother was a famous 1930s and 1940s actress and her father was a poet and film director. When she was very young her parents separated. Tanuja entered films as a child actress and continued working until 1973. Tanuja's eldest sister was the famous Bollywood actress, Nutan. Tanuja has one more sister, Chatura, who did not enter Bollywood.

Kumarsen Samarth was born and brought up in Vile Parle (East) area of Mumbai.Tanuja was married to Shomu Mukherjee (b.1943-d.2008) from 1973 to 2008. He died on April 10, 2008 from a heart attack aged 64. The spouses were separated at the time of his death, but had not divorced. They have two daughters: Kajol (b.1974) and Tanisha (b.1978).

She started her film career with her older sister Nutan in the film Hamari Beti (1950) as Baby Tanuja. As an adult, she debuted in the film Chhabili (1960) which was directed by her mother and had her elder sister, Nutan, in the lead. Though the film that truly marked her transition into adult heroine came with Hamari Yaad Aayegi (1961), directed by Kidar Sharma, who had earlier discovered Raj Kapoor, Madhubala and Geeta Bali, and in the time Tanuja step into the headstrong girl niche created so ably by Geeta Bali in the 1950s.

One of her early films, noticeable for her acting was Baharen Phir Bhi Aayengi (1966), directed by Shaheed Latif. Incidentally it was Guru Dutt team's last offering, especially visible in the song, "Woh Hanske Mile Humse" (believed to have been picturized while Guru Dutt was still alive) who worked hard to help her "tone down" her performance. The result was that the natural spontaneous performer gave a highly restrained performance which became the highlight of the film — as well of her career — as she move to lead roles soon after.

Her next big film was with Jeetendra, Jeene Ki Raah (1969), an immediate and surprise hit. In the same year, Tanuja won the Best Supporting Actress Filmfare Award for Paisa Ya Pyar. After the success of Haathi Mere Saathi (1971), she acted in Mere jeevan Saathi, Do Chor and Ek Baar Muskara Do (1972). Some of the other films she has acted in are Pavitra Paapi, Bhoot Bangla, Anubhav, etc.

During the mid 1960s Tanuja started a parallel career in Bengali movies in Kolkata starting with the film Deya Neya (1963) where she was paired opposite the stalwart of Bengali cinema, Uttam Kumar. She followed it up with memorable hit films like Anthony-Firingee (1967) and Rajkumari (1970). Tanuja had fantastic on-screen chemistry with the then-superstar Soumitra Chatterjee with whom she made some huge box office hits like Teen Bhuvaner Parey (1969) and Prothom Kadam Phool . Tanuja spoke her own lines in these Bengali films.

Afterward, Tanuja retired from films for a number of years but came back when her marriage ended. She was now offered supporting roles often starring former heroes. Her Pyar Ki Kahani's hero Amitabh Bachchan had to call her "bhabhi" (sister-in-law) in Khuddar (1982). She also played a supporting role in Raj Kapoor's Prem Rog (1982).

She has recently appeared in such films as Saathiya (2002), Rules (2003), and Khakee (2003) as a supporting actress.In 2008, Tanuja starred as a judge along with Kajol and Ajay Devgan on Zee TV's family dance series Rock and Roll Family.