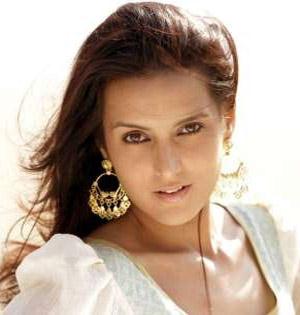 | | |
| --- | --- |
| Name | Tulip joshi |
| Height | 5' 6" |
| Naionality | Indian |
| Date of Birth | 11 September 1979 |
| Place of Birth | Mumbai, Maharashtra, India |
| Famous for | Acting |
oshi entered movies quite by chance. She was a friend of the bride of Aditya Chopra, the son of director Yash Chopra. The family noticed her at their wedding and asked her to appear for an audition, following which they cast her in Mere Yaar Ki Shaadi Hai.
Not being fluent in Hindi, she trained in Hindi diction and in acting at Feroze Khan's studio. She was also advised by the film-makers to change her name to something more Indian, as audiences might have difficulty in accepting a heroine with such an unconventional name. She chose the name Sanjana, she was playing the character of Anjali in that film. The film was quite a success.Despite the good reviews and success, Tulip was heavily panned for her acting.
After a two-year hiatus, she reappeared in Matrubhoomi - a dark film about a futuristic world with almost no women. Her performance in it was praised and established her credibility as an actress. Dhoka movie also gave her some recognition.
Reverting to her given name, Tulip next appeared in the Telugu film Villain. Her next Hindi movie was Dil Maange More with Shahid Kapoor, Ayesha Takia and Soha Ali Khan. The film got average reviews but it was not a box office success.
She appeared in her first Punjabi film in 2009 called Jag Jeondeyan De Mele with famous Punjabi singer and actor, Harbhajan Mann.
In 2010, she acted in a Kannada film directed by Upendra titled Super. The movie was a superhit in Kannada. This movie is also being dubbed in Telugu, Tamil and Hindi.