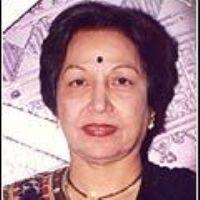 | | |
| --- | --- |
| Name | Usha Khanna |
| Height | |
| Naionality | Indian |
| Date of Birth | 1941 |
| Place of Birth | |
| Famous for | Singing |
Usha Khanna (born 1941 in Gwalior) is an Indian music director. Regarded as the first established female music director in the Indian film industry, she remained active for more than 3 decades from 1960s to 1980s. She is still active making some music for some movies and television-serials, more than 40 years after her debut as music director in Dil Deke Dekho (1959). She received a Filmfare nomination for composing the songs for the huge hit film Souten (1983).

Usha Khanna's father, Manohar Khanna, was a lyricist and singer, working as Assistant Superintendent in the Water Works Department in then Gwalior State. When he came to Bombay (now Mumbai) for some work in 1946 he met Jaddanbai who was mother of Hindi film actress Nargis Dutt.On her request he started writting Gazals in Hindi film by the name of Jaaved Anwar .He was getting monthly salary of Rs.250 in Gwalior State and Jaddanabi offered him Rs.800 for 3 gazals which he wrote for Jaddanbai,s Nargis Art Productions film Romeo Juliet . Usha Khanna did often take inspiration from Arabic music, which she liked and she claims that she has never lifted of any song directly, but that she has composed something along the lines.

The popular music director O. P. Nayyar introduced Usha Khanna to meet Sashadhar Mukherjee, a powerful man in the Indian film industry at that time. She sang a song for Mukerji, and when he realised that she had composed the song on her own, he told her to compose two songs per day for one year. After a few months, Mukherjee signed her as the composer for his movie Dil Deke Dekho (1959) as a music composer. The film, which also introduced the actress Asha Parekh, became a big hit, and Mukherjee hired her again for another Asha Parekh starrer Hum Hindustani (1961).

After she started composing music for Hindi movies, Usha Khanna struggled to establish herself as a music director, despite producing many hit songs. She often collaborated with Asha Bhosle, who referred to Usha Khanna as her daughter, and Mohammed Rafi. This trio produced many hit songs.

Saawan Kumar was often the lyricist for Usha Khanna, and wrote most of his lyrics for her songs. He directed and produced the lyrics for eleven movies she scored the music for. In 1979 K J Yesudas received Filmfare award for her song Dil ke tukde tukde in the film Dada. Usha Khanna married to Sawankumar Tak but later they separarted and she live alone in Bombay(present name Mumbai) now

The effort she had put in to establish her in the industry, made her know how difficult it was to break through, and made her often give the chance to new singers. She gave the chance to the singers who were little known at that time – Anupama Deshpande, Pankaj Udhas, Hemlata, Mohammed Aziz, Roop Kumar Rathod, Shabbir Kumar, and Sonu Nigam. Many of these went on to become notable singers. Usha Khanna herself also sing a few song as a playback singer.

Many of Usha Khanna's songs are still very popular. Usha Khanna was quite active as a composer until the mid-ninetees. Until now the last movie she has given music to was in 2003. The movie was Dil Pardesi Ho Gaya, produced and directed by her ex-husband Saawan Kumar who she was briefly married to.

Usha Khanna had given music to non-Hindi movies too. The Malayalam movie Moodal Manju (1969) is still remembered for some of the finest songs in Malayalam including 'Nee Madu Pakaroo' by K. J. Yesudas and 'Manasa Mani veenayil' by S.Janaki. Agni nilavu and Puthooram puthri Unniyarcha are the other malayalam movies done by her. Why she did not get many chances remains a mystery for many music lovers even now.