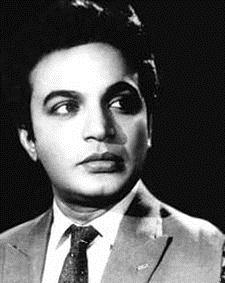 | | |
| --- | --- |
| Name | Uttam Kumar |
| Height | |
| Naionality | Indian |
| Date of Birth | 3 September 1926 |
| Place of Birth | Ahiritola, Calcutta, West Bengal |
| Famous for | Acting |
Uttam Kumar is one of the most famous names of Indian Bengali Cinema. Born Arun Kumar Chatterjee in 1926 at Ahiritola, North Calcutta he is widely known as Uttam Kumar and Mahanayak (The great hero). He remains as much of a cultural icon as he had been in his lifetime. A versatile actor, director, producer, singer and music director, his multifaceted talent earned him much acclaim and adulation.

Uttam Kumar was born in Kolkata in the home of his maternal uncle at Ahiritola, while his ancestral house is on Girish Mukherjee Road, Bhowanipore. After his schooling in South Suburban School (Main), he went for higher studies in Goenka College of Commerce and Business Administration, a college affiliated to the University of Calcutta. He could not, however, complete his studies and started working at the Kolkata Port as a clerk. During this period, he acted in amateur theatre groups. His prodigious joint family had its own theatre group, the Suhrid Samaj, which staged many amateur shows.

Uttam Kumar was the eldest of three sons (Arun, Barun and Tarun) of Satkari Chatterjee and Chapala Debi. The youngest, whose screen name was Tarun Kumar, acted in several Bengali films and grew to become an actor of considerable repute, in screen and on stage. There are several films in which Uttam Kumar and Tarun Kumar starred together like Saptapadi, Sonar Harin, Maya Mriga, Sesh Anka, Deya Neya, Jeeban-Mrityu, Dhanyi Meye, Sanyasi Raja, and Agniswar. Uttam Kumar married Gauri Debi [Chatterjee]. Their only son, Gautam, a businessman died of cancer at the age of 53. His grandson, Gaurav is a Tollywood actor. Pulak Bandyopadhyay, a famous lyricist, was his uncle.

Uttam's first release was Drishtidan (The gift of sight) directed by Nitin Bose, though he worked in an earlier unreleased film called Mayador (Embrace of affection). He came into prominence in the film Basu Paribar and his breakthrough film was Agni Pariksha that began the roaring success of the all-time romantic pair of Uttam Kumar - Suchitra Sen; though they had first starred in Sharey Chuattor (74 and a half anna). Altogether, this pair starred in about 30 films between 1954 and 1973.

Coming in the wake of the Indian Partition of 1947, and unprecedented mass migrations from the then East Pakistan to Kolkata (then known as Calcutta), the Uttam-Suchitra pair gave expression to the yearnings of a new, transformed city. They played out on screen the new desires of a young audience trying to come to terms with industrial modernity and a new form of urban existence. The stylized, black-and-white romanticism of landmark Uttam-Suchitra films of the 1950s like Sagarika (1956), Shilpi (1956), or Harano Sur, Indrani, Sabar Upare, Surjyo Toron reflected a novel, youthful urban desire to break free from the confines of the feudal joint family and set up a nucleated, private space for the couple in love. In contrast to the earlier phase of Bengali cinema mostly dominated by the dramatised style of the New Theaters' films (in the 1940s), the Uttam-Suchitra films were marked by a more naturalistic acting style, somewhat stylized, soft-focus black-and-white cinematography with chiaroscuro effects, and a more popular and modern form of music that broke away more decisively from earlier dependence on classical types . These features were put in place by a new generation of cinematographers like Dinen Gupta and Ajoy Kar, a fresh batch of directors (Kar himself,Sudhir Mukherjee, Naresh Mitra, Sushil Majumdar, the combines Jatrik and Agradoot) and musicians like Nachiketa Ghosh, Rabin Chattopadhyay, Anupam Ghatak, Hemanta Mukherjee Anil Bagchi, Sudhin Dasgupta and Salil Chowdhury, along with lyricists like Gauriprasanna Majumdar, Pranab Roy, Pulak Bandopadhyay. A number of them hailed from the left wing Indian People's Theater Association (IPTA) movement.

Uttam Kumar was especially adored for his effortless naturalism in front of the camera and a distinctively urbane charisma that broke free from the prototypical Bengali screen hero of the past. He went on to form successful screen pairs with many leading ladies like Supriya Choudhuri, Sabitri Chatterjee, Madhabi Mukherjee, [[Sharmila Tagore, Anjana Bhaumick, Aparna Sen and Sumitra Mukherjee; apart from Sandhyarani in the 50s, Arundhati Debi and Mala Sinha in the 60s and Kaberi Bose and Tanuja in the 60s and 70s. Often hailed as the one-man industry, he dominated Bengali cinema for three decades until his death. This near-total reign was somewhat slightly disturbed during the politically turbulent era of the late sixties up to the emergency, when Uttam Kumar's regular, politically passive or relatively conservative romantic film persona sometimes found it difficult to fit into the narratives of unrest that came to the fore.

Never quite satisfied with his undisputed matinée idol status, Uttam Kumar started experimenting with character roles early in his career, as evidenced by films like Khokababur Pratyabartan, (1960), Mayamriga, (1960) or Thana Theke Aschi (1965) and Bicharak. In Marutirtha Hinglaj (1959), he essayed a mentally disturbed character. In Kuhak he was a psychotic killer, the film itself being a remake of the American noir The Night of the Hunter (with Kumar in Robert Mitchum's role), while in Sesh Anka, he was a suave businessman who had murdered his wife and was romantically engaged to the daughter of a social elite and rich nobleman. In Aparichita (1969) he was a Dostoevskian villain. Such departures were unusual in relation to set formats of stardom in Indian popular cinematic cultures, where deviating from established 'star images' were often considered to be risky. However, this brought Uttam Kumar early recognition as a genuine actor of substance apart from a box office superstar and stood him in good stead later, especially in his collaborations with Satyajit Ray in Nayak (1966) and Chiriyakhana.

Apart from Bengali, Uttam Kumar also acted in some Hindi films such as Chhoti Si Mulaqat (along with Vyjayanthimala), Amanush,Anand Ashram Dooriyaan (with Sharmila Tagore), and Kitaabwith Vidya Sinha. But his towering contribution was to Bengali cinema and the Bengali film industry on the whole.

Perhaps his most lauded appearances was in Satyajit Ray's Nayak (The Hero). It is now widely accepted that Ray wrote the script with Uttam in mind. Many people feel the film bears resemblance to Uttam Kumar's own life — the sense of anxiety and restlessness mirrored Uttam's insecurities about his phenomenal success and abiding fear that his superstardom might not last. Uttam made the role of Arindam (Mukherjee) his own and Ray later confessed that if Uttam had refused the film, he would have abandoned it. He worked with Ray the following year in Chiriyakhana (1967).[3]

When the Indian government instituted the National Film Awards for National Film Award for Best Actor and National Film Award for Best Actress in 1967, Uttam Kumar was the first-ever recipient of the Best Actor Award for his performances in Anthony Firangee and Chiriyakhana in 1967.

He explored new avenues of film-making by trying his hand at production, singing, composing music, screenplay writing and directing. The success of his Bengali films as producer — Harano Sur, Saptapadi, Bhrantibilash, Jotugriha (1964), Grihadah — won great acclaim.[4] Later, Uttam directed much-lauded films such as Sudhu Ekti Bachhor and Bon Palashir Padaboli. He composed music for the film Kaal Tumi Aleya in which Hemanta Mukherjee and Asha Bhonsle sang to his tune.

He came out with an autobiography Amaar Ami in 1979-80. He had a phenomenal fan base which continues even to this day.[5] Reruns of his films on television decades after his death are still eagerly watched. Uttam Kumar's time is considered by most as the golden era of Bengali cinema.

Late journalist Rintu Mukherjee, in his Khanojonma Uttam, explained the incredible bankability of this star. From 1947 to 1980, both in Bengali and Hindi, Uttam Kumar acted in 202 films. Among them 39 were blockbusters, 57 were superhits, 57 made profits above the average and the rest flopped.