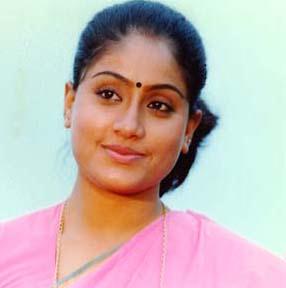 | | |
| --- | --- |
| Name | Vijayashanti |
| Height | |
| Naionality | Indian |
| Date of Birth | 24 June 1966 |
| Place of Birth | Warangal, Andhra Pradesh, India |
| Famous for | Acting |
Vijayashanti is an Indian film actress and a politician from Andhra Pradesh. She has acted in over 185 movies in seven languages including Telugu, Tamil, Malayalam, Kannada and Hindi. She was born in Warangal, Andhra Pradesh, India on 24 June 1966.

She is credited as "The Lady Superstar" of South Indian cinema. She has won the National Film Award (Best Actress) for Karthavyam in 1991 and also She won 5 Filmfare Awards Best Actress and 7 Nandi Awards. She played a wide variety of roles including glamorous roles,action heroine, tough cop, Goddess, sentimental roles and proved herself in all roles. She is ever rememberd for her versatality including acting, dancing, fighting skills.

Vijayashanti, whose given name was 'Shanti', is a politician and is the elected MP from the Medak constituency in the state of Andhra Pradesh. Prior to joining politics in 2004, she was a leading actress in Telugu and Tamil films. She began her acting career in 1975 at the age of 13 as the leading lady in the Tamil film Kallukkul Eeram ("The moisture inside stone / rock") directed by the legendary Tamil film-maker Bharati Raja. The same year, she debuted in her native Telugu with the movie Kilaadi Krishnudu ('Cunning Krishna'), pairing opposite superstar Krishna. For the first few years, she portrayed mostly glamour roles. Notable among them is her role in the Telugu film Satyam-Shivam (1981), the cast of which included the two legends of Telugu Cinema - NTR,and ANR. She is believed to be married Srinivas Prasad and having two children. It's never disclosed.

Vijayashanti's first break as a performer came in the 1983 Telugu film Neti Bharatam directed by T. Krishna. The next few years saw her in performance-oriented roles (Desamlo Dongalu Paddaaru, Vandemaataram, Pratighatana, Aruna kiranam, Repati Pourulu, Devalayam, etc.), and in glamorous roles (Challenge, Desodhdhaarakudu, Pasivaadi Praanam, Muddula Krishnaiah, Agni Parvatam, Gang Leader etc.). By 1985 she was exclusively acting in Telugu films. She became a Glamour Queen of the Telugu film industry.

In the blockbuster movie Karthavyam (1990), her performance as a tough cop (modeled after real-life supercop Kiran Bedi) won her the National Film Award from Indian Government and an Andhra Pradesh State award for best actress.She became third women to win national award for best actress from Telugu industry. The success of this movie saw her moving away from glamorous roles and limiting herself to tough lady roles. These tough lady roles made her a lady super star in Telugu.

In 1990, Kartavyam was dubbed into Tamil as Vijayanthi IPS and its success brought her actress in Tamil cinema as well. (It was also remade in Hindi as Tejaswini, with herself playing the lead role. As expected, Tejaswini did very well at the Hindi box-office). Following the success of Vijayanthi IPS, the producers of her films began releasing Tamil versions of her movies simultaneously with the Telugu Movies. After she started concentrating on Action roles. some thing special is her nativity showing.

In 1997 she started her political career by joining the Bharatiya Janata Party (BJP). Soon she was made the secretary of BJP's Women's Wing (Bharateeya Mahila Morcha). During the 1999 Indian general elections she was named BJP's contestant from the Cuddapah Lok Sabha seat against Sonia Gandhi of Congress(I) (however, she withdrew from the race after Sonia Gandhi decided to contest from Bellary). She started her own political party, Talli Telangana, which merged into Telangana Rashtra Samithi (TRS) due to lack of strenght and support, in January 2009.

From 1999 her movie appearances decreased as she focused on her political career. By 2004 she had stopped signing new films. In 2009 General Election of 15th Lok Sabha she won Medak seat. She is actively participating in the telangana agitation for a separate state for the telangana region.