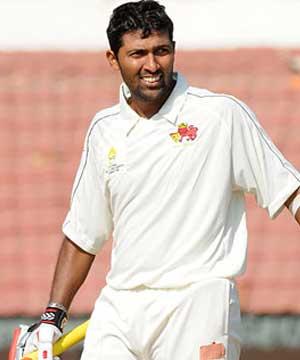 | | |
| --- | --- |
| Name | Wasim Jaffer |
| Height | 6' 0" |
| Naionality | Indian |
| Date of Birth | 16 February 1978 |
| Place of Birth | Bombay, Maharastra, India |
| Famous for | Cricket |
Early years Following a prolific school career, during which he scored 400 not out in one innings as a 15 year old, he made his entry into the first class cricket scoring a triple century in his second match. An innings-by-innings breakdown of Jaffer's Test match batting career, showing runs scored (red bars) and the average of the last ten innings (blue line). An opening batsman, with the style of Mohammed Azharuddin, much was expected of Jaffer as he entered Test cricket for the first time in a home series against South Africa in 2000. Jaffer was recalled to the Test team for the tour of Pakistan 2005-06 in the wake of excellent domestic form, but did not play in the Test matches. It was in the next series in India that Jaffer scored his maiden Test century scoring exactly 100 against England at Nagpur, in his first Test since his recall. He made his first Test double century at the Antigua Recreation Ground against the West Indies in June 2006.

Jaffer was selected for ODI series in November 2006 against South Africa, making his ODI debut. However, he continued to score in the Test format, making his third Test century against South Africa at Newlands, Cape Town.

Despite making a pair in the opening Test of his next series against Bangladesh at Chittagong, he returned to form with 138 in the following Test before he retired hurt. Jaffer scored 202 in the first innings of the second test of the 2007 series against Pakistan at Eden Gardens, Kolkata. He has Test centuries against Pakistan, England, West Indies and South Africa.