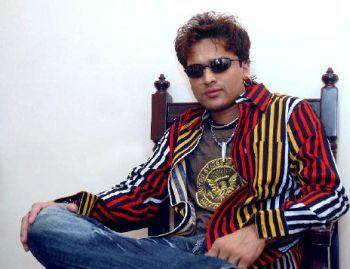 | | |
| --- | --- |
| Name | Zubeen Garg |
| Height | |
| Naionality | Indian |
| Date of Birth | November 18, 1972 |
| Place of Birth | |
| Famous for | Singing |
Zubeen Garg (born 18 November 1972) is a singer and composer from Assam, India, in the Bollywood and Assamese music scene. He plays dhols, guitar, dotora, mandolin, keyboard and various percussion instruments.

Zubeen Garg hails from Jorhat, a city in upper Assam. His birth name is zubeen Borthakur. He was named after the great composer Zubin Mehta and used their gotra Garg as his surname. Zubeen was born to Mr. Mohini. Mohan Borthakur, a famous lyricist, poet and a magistrate (who uses the pseudo name Kapil Thakur), and late Mrs. Ily Borthakur.

The Borthakur family had its roots in Janji, Sivasagar. Mr. Borthakur was a magistrate and moved often during his early years along with little Zubeen. Zubeen's mother was a good dancer, an actress and a singer. However, she never turned these talents into a professional career. Instead, she decided to teach them to little Zubeen at home. Zubeen considers his mother to be his first guru and mentor. Zubeen's younger sister Jonkie Borthakur was a well known singer and actress who died in a car accident in 2002. Zubeen's other sister Palme, is a good bharat natyam dancer, presently living in Guwahati, operating a dance academy.

Feeling indebted to his loyal fans from Assam, Zubeen became involved in various charitable organizations dealing with AIDS and[ cancer].zubeen is also working as the president for societies like destination(autistic children),all assam cultural organisation,& vande.

Zubeen lives with his wife Garima, a fashion designer, in his flat, which is a part of his music studio called Sound & Silence, located at 165/1, Sher-E-Punjab. Andheri East. Mumbai, India.zubeen is also a prominent actor in assamese films.his films like mon jai,dinabandhu got national awards.currently zubeen is working for some assamese films n started his own production house in guahati.zubeen is working many bengali films also.his new assamese/bengali film YOU ARE NOT MY JULIE is all set to be released in october 2011.

Zubeen started learning tabla from Guru Robin Banarjee, and then continued learning Assamese folk music form Guru Romoni Rai. He attended Jagannath Barooah College in Jorhat, and then moved to B. Barooah College, where he was pursuing Bachelor of Science after his family moved permanently to Guwahati. But he did not complete his graduation as he jumped in to the music scene. Zubeen's life had a turning point when he received the gold medal for his western solo performance in the youth festival held in 1992. This is where he got his first taste of success and confidence as vocalist. Apart from playing dhols, dotara, mandolin, percussions, Zubeen is an accomplished keyboard player. He broke into professional music scene in 1992, releasing his first album - Anamika. This unusual album, became an instant hit in entire northeast India and re-defined Assamese musical landscape for the coming 21st century. After that, there was no looking back for Zubeen. With about 200 albums to his name, Zubeen continues his musical career directing music to over 24 Assamese movies including a few Hindi and bangla movies as well. He received the best Music Award in 2005, for the Bangla movie Shudhu Tumi. Zubeen considers himself to be a musician having sung more than 9000 songs in various languages including Hindi, Tamil, Telugu, Kannada, Malayalam, Punjabi, Oriya, Bengali, Marathi, Nepali, English, Bodo and many others. The song Ya Ali from the movie Gangster became a superhit in mainland India, the Middle East, and across South Asia. Following the success an Album titled 'Ya Ali Remix Blast' containing remix by DJ Suketu & Aks were released.Till date zubeen has sung in more than 50 hindi films.

In 2000, Zubeen wrote, directed and acted (also watched) in his own Assamese film Tumi Mor Matho Mor. He acted, co-produced and scored music in another Assamese film Dinabandhu, for which received a national award in 2005. Zubeen had done music for Strings - Bound By Faith, a Hindi film, directed by Sanjay Jha was released in 2006.his last assamese album was BAHIN. Zubeen came up with his own Hindi album 'Zindagi'in 2007, which received good appreciation.in 2007 zubeen acted in another assamese movie mon jai which got another national award.zubeen also won rajat kamal national award 2007 for best music in short film catagory.