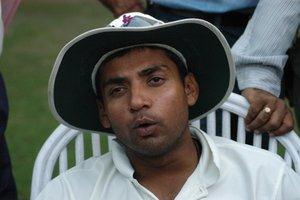 | | |
| --- | --- |
| Name | Ajaysinhji Daulatsinhji Jadeja |
| Height | 5' 10" |
| Naionality | Indian |
| Date of Birth | 1 February 1971 |
| Place of Birth | Jamnagar, Gujarat, India |
| Famous for | Cricket |
Jadeja was a regular in the Indian cricket team between 1992 and 2000, playing in 15 Test matches and 196 One Day Internationals. He was regarded as one of the best fielders in the Indian team in his time. One of his most remembered innings was his cameo innings in 1996 Cricket World Cup quarter-final against arch rivals Pakistan when he blasted 45 off 25 balls, including 40 from the final two overs by Waqar Younis. Jadeja along with Mohammed Azharuddin holds the record for the highest one day partnership record for the 4th and 5th wicket, set against Zimbabwe and Sri Lanka respectively. Jadeja is also renowned for remarkable fielding and considered one of the safest pairs of hands in the Indian team during his tenure.

Another memorable occasion of his career was taking 3 wickets for 3 runs in 1 over against England in Sharjah to win the match for India. Jadeja has captained India in 13 One-day matches. One of Jadeja's favourite hunting grounds was the Chinnaswamy Stadium in Bangalore, the venue of the quarter-final against Pakistan in the 1996 World Cup. The last time Jadeja played in a One Day International was against Pakistan in the Pepsi Asia Cup on 3 June 2000. He scored 93 in a game that India eventually lost. Jadeja was the top scorer hitting 8 fours and 4 sixes.

Jadeja's cricketing achievements were later overshadowed by a 5 year ban for match-fixing. The ban was later quashed by the Delhi High Court on 27 January 2003, making Jadeja eligible to play domestic and international cricket. Jadeja had approached the Delhi High Court on 2 February 2001, challenging the BCCI order imposing the five-year ban on the basis of the K. Madhavan Committee recommendations.

Jadeja is currently the coach of Rajasthan and a cricket commentator.