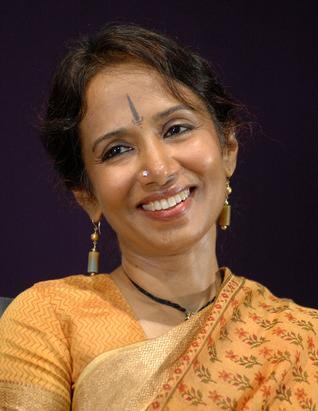 | | |
| --- | --- |
| Name | Alarmel Valli |
| Height | |
| Naionality | Indian |
| Date of Birth | 14 september 1956 |
| Place of Birth | Chennai, Tamilnadu |
| Famous for | Dancing |
Alarmel Valli (born 1956) is an Indian classical dancer and choreographer, and the foremost exponent of the Pandanallur style Indian classical dance form of Bharatnatyam and also her own distinctive style. She is the founder of 'Dipashikha', a centre for fine arts in Chennai, established in 1984, where she also teaches Bharatnatyam.

In 1991, Alarmel Valli was the youngest dancer to be conferred the President's award of Padmasri. She was awarded the Sangeet Natak Akademi Award in 2001 by Sangeet Natak Akademi, India's National Academy for Music, Dance and Drama, followed by Padma Bhushan by Govt. of India in 2004.

Alarmel Valli was born and brought up in Chennai, where she did her schooling from The Sacred Heart Matriculation School, at Church Park, Chennai and later studied at the Stella Maris College, Chennai.

She has trained in the Pandanallur style of Bharat Natyam under Pandanallur Chokkalingam Pillai and his son Subbaraya Pillai. She has also studied music forms like Padams and Javalis under eminent musician T. Muktha, of the Veena Dhanammal style of music for many years. She also learnt abhinaya from Kalanidhi Narayan.

She made her stage debut at an early age of 9 1/2 under the auspices of Indian Institute of Fine Arts, Madras and was conferred the Natya Kala Bhushan award and won her laurels on the International scene when she was barely 16 at the International Dance Festival of Theatre organised by the prestigious Sarah Bernhardt Théâtre de la Ville, in Paris, and has been performing ever since,both in India and aboard.

She also learned Odissi under Guru Kelucharan Mohapatra and his disciple Guru Ramani Ranjan Jena, and studied classical Tamil literature anthologies of the 2000 years old, Sangam poetry. Over the years she has gradually evolved her own distinct style that extended her tradition within the broad framework of classical Bharatanatyam.

Alarmel Valli bases her dance on the principle that Bharatanatyam is a superbly evocative language, where the dancer who has mastered and internalised the idiom can write her personal dance poetry. In her choreography, drawing on her knowledge of music and the rich, nuanced vocabulary of classical Indian dance, Valli explores the complex layers of meaning in poems and lyrics, giving them a visual and melodic dimension. Trained by great masters, Pandanainallur Sri Chokkalingam Pillai and his son Sri Subbaraya Pillai, she has enriched her dance vocabulary and extended the frontiers of her dance tradition to evolve her own distinctive style, which has been described as "uniquely individualistic…an effortless synchronisation of apparent contradictions – linearity and lyricism, symmetry and sinuosity, precision and poetry". Her work, while remaining within the framework of classical Indian dance, is contemporary in its interpretation and scope to communicate and has been lauded for creating an international awareness of Bharatanatyam, as a dynamic, continuously evolving, classical dance form.

A film on Alarmel Valli was made for the Omnibus series, on BBC One, by producer Michael Macintyre. Alarmel Valli has also been featured in dance documentaries by noted Indian producers like the late G. Aravindan and Prakash Jha, by the BBC (in The Spirit of Asia Series), the Nederlands Broadcasting Company, Arte (France) and Japanese National Television. The Films Division of India commissioned a film on her for the National Archives of India. Titled 'Pravahi', it has been directed by eminent film-maker Arun Khopkar, with cinematography by Madhu Ambat.