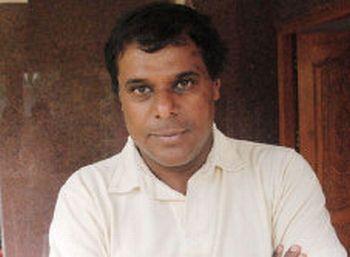 | | |
| --- | --- |
| Name | Ashish Vidyarthi |
| Height | |
| Naionality | Indian |
| Date of Birth | 19 June 1962 |
| Place of Birth | Tellicherry, Kerala |
| Famous for | Acting |
Ashish Vidyarthi, (born 19 June 1962) is an Indian actor who worked predominantly in Hindi films and lately in South Indian films. He has won the National Film Award for Best Supporting Actor for film Drohkaal in 1995.

He has acted in several South Indian films including 'AK 47', Aa Dinagalu, Jothegara in Kannada,Dhill in Tamil, CID Moosa in Malayalam, Pokiri in Telugu and Bombaiyer Bombete in Bengali. He played a major role in the Zee TV serial Vaaris.

He was born in a Kayastha family in Tellicherry, Kerala, in 1962 to Reba Vidyarthi, a renowned Kathak dancer and Govind Vidyarthi, his father, a Malayali theater personality.

Vidyarthi moved to Delhi in 1969 and joined the Bharatiya Vidya Bhawan, where he won acclaim for his performances as an actor in both dramatic and comedic roles. He passed his Class XII exams in 1980, after which he attended Hindu College and earned a B.A in History.

He began acting in minor roles and got his break in a Sai Paranjpe's serial Hum Panchi Ek Daal Ke. He went on to act in a number of minor serials in regional languages and in appeared in Ghutan, a major Hindi serial in the 1990s.

Says Aashish, "I was born and brought up in Delhi, am working in Mumbai, keep travelling to Hyderabad, and now to Chennai for my work. Some may call me rootless, but I've established my roots everywhere."

Aashish describes how he got his first break with Vinod Chopra, in his '1942 - A Love Story'. "I went to meet him at his place and he asked me to perform something for him. I did, but he was pre-occupied, attending to calls, etc. But at one point he suddenly stopped all the calls and kept watching me. And when I finished he said, 'You know, you're as good as me!'" He gave me a miniscule role in his film, and along with it he gave me the hope and confidence that I can make it in Mumbai. Then I performed for Mahesh Bhat and he gave me 'Nayajaz'. In Govind Nihalini's 'Drohakal' I was pitted against the mighty Om Puri.

Aashish considers his best performance to be in 'Drohakal'. "I never went to meet Nihalani. So I was pleasantly surprised when he suddenly called me and said he had a role for me. If I can name a person who is responsible for what I am today, it is Nihalani. It was a powerful role, and it kind of made me. Sudhir Mishra's 'Is Raat Ki Subah Nahin' was another film where I got an excellent role. I started concentrating on mainstream cinema and have done about 45 Hindi films, four of them with Amitabh Bachchan."

On his experience with Om Puri and Naseeruddin Shah, Aashish says, "Om Puri is such a caring person. He would call me home everyday. I used to park my bike at his place and travel with him in his car to the studio. He would want to rehearse the lines with me on the way.

It was such a kind gesture on his part, so that I won't be over-awed by him. They may be small things, but they matter a lot to a newcomer like me. During 'Najayaz' I had to jump from a high-rise building. Refusing a dupe I did it, all excited. Then Naseer Bhai told me, 'Listen, this is just to show the height of the building. The camera will be placed right down and you won't even be seen. Next time, don't take such risks.' That was another lesson."

About his entry into Tamil cinema Aashish confesses that Tamil cinema has been his passion for a long time. "I had seen Mani Ratnam's films. The Tamil film industry has a lot of young invigorating talent, and I'm an actor waiting to be challenged. A 3-month start-to-finish film is unimaginable in Mumbai. There is going to be continuity in terms of my character.

In director Ramani's 'Dil' I play a wicked cop called 'encounter Shanker'. My make-up takes at least 1½ - hours to put on. The patch under my left eye pains and even when I'm out of make-up, my left eyelid forgets to bat. But the joy of performing with a good unit and with sensitive artistes like Vikram and Nasser is compensation enough. Among the directors he would like to work with are the usual names like Shanker and Mani Ratnam, and a surprise in S.J. Surya. "I have seen Surya's 'Vaali' and I was really impressed.

I would like to be challenged by a director like him. Since destiny has brought me to the South, I intend to do more Tamil films," says Aashish. And what does the actor do when he's not shooting? "Life is not meant to feel lonely. I don't carry any extra baggage, just because I am an actor.

Piloo, my wife, complains about my work schedule. And when I do get to finally take her out to dinner, midway I stop and say, 'Hey shall we call some friends too?' Earlier Piloo used to get quite irritated, but now she enjoys it too. After work that's how my life is. I don't attend any film parties. But I do meet directors when I'm not working. I'm a professional worker for hire."

The person Aashish would like to emulate in real life is actor Nasser. Says he, "Dil' is the third project I'm doing with Nasser. His love for cinema and passion for the theatre is astonishing. So is his magnanimity and humility. After achieving so much in the South he's still so down to earth. He has re-enforced my belief that actors need not walk tall with their nose up in the air.

This profession gives me the chance to meet such rare people. We actors tend to forget that being a good human being is more important than acting well. I want to evolve into something more, enrich my life and those of others too. That is why it is so important to treat this profession as just a profession, and not as an alter ego of oneself. Because it can be a very lonely profession and can tempt one to lose touch with reality".

Vidyarthi's film career began with a supporting role in the Kannada Film Anand with Shivraj Kumar. Later, he starred with Suresh Gopi in Hijack (1991). His break in Hindi films came with Naajayaaz and Baazi. He soon began appearing as atypical (by Bollywood standards) villains, spewing vitrolic dialogue rather than as the "classy" Pankaj Kapur-type villains who were becoming the norm. As a result most of his films were not top of the line and were more of standard commercial masala fare. He did have some hits like Kaho Naa Pyaar Hai. He also acted in supporting roles in some films such as Ek Rishta or a comic villain in Jodi No.1 and Haseena Maan Jayegi.

As the film industry dried up in Mumbai, Vidyarthi received offers from South India. His role as 'Dawood' in Kannada movie 'AK 47' along with Kannada superstar Shivarajkumar and another bollywood actor Om Puri is very memorable. He then appeared as a villain in South Indian films such as CID Moosa with Dileep, Baba as Ippo Ramasami with Rajnikanth, Dhill with Vikram, Pokiri and Athidhi in Telugu with Mahesh Babu.

He has acted in a TV serial Vaaris as an autocratic father. He played a strong character (naxalite leader) named guruji in Bhagyavidhaata in Colors.
He got married to actress Rajoshi and has a son Arth. Actress Rajoshi is the daughter of yesteryear actress Shakuntala Barua.