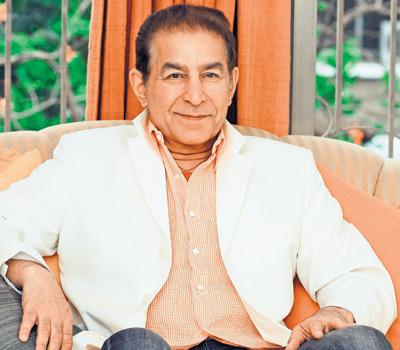 | | |
| --- | --- |
| Name | Dalip Tahil |
| Height | |
| Naionality | Indian |
| Date of Birth | 30 October 1952 |
| Place of Birth | India |
| Famous for | Acting |
Dalip Tahil (born 30 October 1952, India) is an Indian film, television and theatre actor. He did his schooling from the elite Sherwood College in Nainital, India and later graduated from Aligarh Muslim University, Aligarh.

Dalip Tahil initially made his foray into theatres in Prithvi Theatre's bestselling play Pakke Dhagge opposite Sanjana Kapoor daughter of Shashi Kapoor. He then got a small role in the 1974 National Award winning movie Ankur. He went onto acting in small and minor roles in films like Trishul ( as the henchman of Prem Chopra's Character) and Kaala Patthar (As a mineworking friend of Sharat Saxena's character).

In 1980 he got a break in Shaan as a minor villain. This was followed in a small role in Richard Attenborough's Gandhi where he briefly appeared as a freedom associate of Pandit Jawahar Lal Nehru. He went onto play supporting roles such as a father, policeman and a villain in over 100 Hindi films throughout the 1980s and 1990s.

He also appeared in the Merchant-Ivory English films The Deceivers and The Perfect Murder (1988). His most notable Bollywood film roles include Qayamat Se Qayamat Tak, Thanedaar, Deewana, Baazigar, Ishq, Phir Bhi Dil Hai Hindustani, King Uncle, Hum Hain Rahi Pyar Ke

In 1984 he acted as father of Baby Sonia in India's first 3-D film My Dear Kuttichathan produced by Navodaya Appachan. He gradually adopted a more supporting role in the late 1990s and early 2000s in films like Partner or Shakalaka Boom Boom, Goal and Hello.

His most recent appearances have been in Race (As the Rival Horse Racer) and in Dil Bole Hadippa where he plays a patriotic pre partion Hindustani. In the 2010 film Prince he plays Col. Khanna of the IGRIP, an Indian intelligence agency.

In 2007 he starred in the Punjabi movie Sajna ve Sajna. He has starred in several films alongside Bollywood superstar Shahrukh Khan including Deewana, Baazigar, Darr, King Uncle, Phir Bhi Dil Hai Hindustani and Ra.One

On television Tahil played roles in Sanjay Khan's television serial The Sword of Tipu Sultan and Ramesh Sippy's Buniyaad. He got international recognition when he got the role of Dan Ferreira in the popular British BBC television soap opera EastEnders in 2003. After less than year playing the role however, he was forced to leave the soap after it was discovered his work permit documents were not in order and the Home Office threatened to have him deported from the country.

Due to his departure many scripts that were written for his character on EastEnders had to be re-written to explain his absence. Originally his character was to have been killed off by his on-screen children but after his sudden exit, the scriptwriters struggled to find storylines for his on-screen family so the family was later axed by the producers in 2005. Dalip later won the right to stay in the UK.

In 2007 he appeared in the BBC2 mini-series Nuclear Secrets in the episode Terror Traders playing Pakistani scientist A.Q Khan.

He has appeared in many Indian stage plays and internationally he is known for starring in the Andrew Lloyd Webber musicals Bombay Dreams and Evita in the London West End.