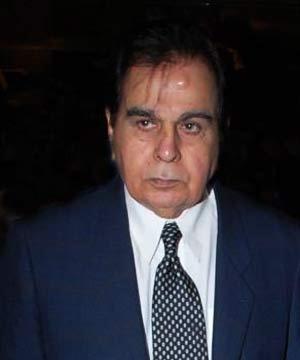 | | |
| --- | --- |
| Name | Dilip Kumar |
| Height | |
| Naionality | Indian |
| Date of Birth | 11 December 1922 |
| Place of Birth | Peshawar, British India |
| Famous for | Acting |
Mohammed Yusuf Khan (born 11 December 1922), popularly known with nickname Dilip Kumar, is an Indian actor and a former Member of Parliament. He lives in Pali Hill, Bandra in Mumbai, India. He is commonly known as "Tragedy King", and is described as "the ultimate method actor" by Satyajit Ray.

Starting his career in 1944, Kumar's career has spanned five decades and over 60 films. He is widely considered to be one of the greatest actors in the history of Hindi Cinema. Kumar was the first actor to receive a Filmfare Best Actor Award and holds the record for the most number of Filmfare Awards won for that category along with Shahrukh Khan; 8 wins.[8 He starred in a wide variety of roles such as the romantic Andaz (1949), the swashbuckling Aan (1952), the dramatic Devdas (1955), the comical Azaad (1955), the historical Mughal-e-Azam (1960) and the social Ganga Jamuna (1961). In 1976, Kumar had a five-year break from film performances. In 1981, he returned with a character role in the film Kranti and continued his career playing central character roles in films such as Shakti (1982), Karma (1986) and Saudagar (1991). His last film was Qila in 1998. The Government of India honoured him with the Padma Bhushan in 1991 and the Dadasaheb Phalke Award in 1994 for his contributions towards Indian cinema.

His first film with Nisar Bhai and Hamed Bhai Jwar Bhata was released in 1944 which went unnoticed. His first major hit was the 1947 film Jugnu. He appeared in many hits thereafter including the romantic melodramas Mela (1948), Andaz (1949), Deedar (1951), Daag (1954), Devdas (1955), Yahudi (1958) and Madhumati (1958). These films established his screen image as the "Tragedy King".

He also played lighthearted roles in films such as Aan (1952), Azaad (1955) and Kohinoor (1960). In 1960 he portrayed Prince Salim in the historical film Mughal-e-Azam which as of 2008 was the second highest grossing film in Hindi film history.

In 1961 he produced and starred in Ganga Jamuna in which he and his real-life brother Nasir Khan played the title roles. This was the only film he produced. In 1962 British director David Lean offered him the role of Sherif Ali in his 1962 film Lawrence of Arabia, but Kumar declined the part. The role eventually went to Omar Sharif, the Egyptian actor. His next film Leader (1964) was below average at the box office.

In 1967 Dilip Kumar played a dual role of twins separated at birth in the hit film Ram Aur Shyam. His career slumped in the 1970s with films like Dastaan (1970) and Bairaag (1976) where he played triple roles failing at the box office. He took a five year hiatus from films from 1976 to 1981.

In 1981 he returned with the multi-starrer Kranti which was the biggest hit of the year. He went onto play character roles in hit films including Shakti (1982), Vidhaata (1982), Mashaal (1984) and Karma (1986). In 1991 he starred alongside veteran actor Raaj Kumar in Saudagar which was his last successful film In 1993 he won the Filmfare Lifetime Achievement Award.

In 1996 he was attached to make his directorial debut with a film titled Kalinga but the film was shelved. In 1998 he made his last film appearance in the unsuccessful film Qila where once again he played dual roles as an evil landowner and his twin brother investigating his death. His films Mughal-E-Azam and Naya Daur were fully colorized and re-released in 2004 and 2008 respectively.

Kumar has been active in efforts to bring the people of India and Pakistan closer together. He has been a member of the upper house of Parliament since 2000.

He was awarded the Dadasaheb Phalke Award in 1994. In 1998 he was awarded the Nishan-e-Pakistan, the highest civilian award conferred by the government of Pakistan. He is the second Indian to receive the award. At the time of the Kargil War, Shiv Sena chief Bal Thackeray demanded Kumar return his Nishan-e-Pakistan, arguing that "He must return Nishan-e-Imtiaz following that country's blatant aggression on Indian soil." Kumar refused, saying:

"This award was given to me for the humane activities to which I have dedicated myself. I have worked for the poor, I have worked for many years to bridge the cultural and communal gaps between India and Pakistan. Politics and religion have created these boundaries. I have striven to bring the two people together in whatever way I could. Tell me, what does any of this have to do with the Kargil conflict?"

Kumar married actress and beauty queen Saira Banu in year 1966 when he was aged 44 and she was 22. His brothers are Nasir Khan, Ehsan Khan and Aslam Khan. Kumar's younger brother Nasir Khan was also an actor and appeared opposite him in Ganga Jamuna (1961) and Bairaag (1976).

Around September 10, 2011 it surfaced that the health of Dilip Kumar is going on worsening. Some incredible tweets even mistakenly spread news of his death. Later Dilip Kumar's wife Saira Banu, made a public statement that the actor is good in health and in high spirits. She quoted in a public statement:

" "I am releasing this statement with a tinge of displeasure because this is not the first time such a rumour has spread without any basis, reason or cause. I have been woken up from sleep at odd hours this time and on previous occasions by phone calls seeking to know the fact and my staff and close friends have also had to answer calls at odd hours just because some sadistic mind has been at work and has triggered a distasteful rumour."

Dilip Kumar is widely considered to be one of the greatest actors in the history of Hindi Cinema. Kumar holds the Guinness World Record for having won the maximum number of awards by an Indian actor. He has received many awards throughout his career, including 8 Filmfare Award for Best Actor awards and 19 nominations.

He was honoured with the Filmfare Lifetime Achievement Award in 1993. The Government of India honoured him with the Dadasaheb Phalke Award in 1994 - the highest award for cinematic excellence in India. In 1980, he was appointed Sheriff of Mumbai, an honorary position. In 1991, he was awarded Padma Bhushan from the Government of India. In 1997, Kumar was awarded, Nishan-e-Pakistan, Pakistan's highest civilian award.

He received in 1997 the NTR National Award. He was also awarded CNN-IBN Indian of the Year - Lifetime Achievement Award in 2009.