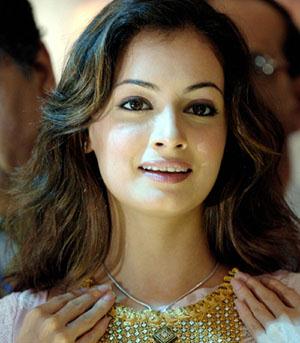 | | |
| --- | --- |
| Name | Diya Mirza |
| Height | 5' 6 |
| Naionality | Indian |
| Date of Birth | 9 December 1981 |
| Place of Birth | Hyderabad, Andhra Pradesh, India |
| Famous for | Acting |
Dia Mirza was born in Hyderabad, Andhra Pradesh. Her father, Frank Handrich, was a German graphic and industrial fair designer, architect, artist and interior designer from Munich and her mother, Deepa is a Bengali Indian who is an interior designer, landscaper and currently does social work as a volunteer to help alcoholics and addicts. They separated when she was six years old. Her father died when she was nine and her mother remarried Ahmed Mirza, who died in 2004. She adopted her stepfather's surname Mirza and has recently adopted the last name of her birth-father and became Dia Mirza Handrich. Though she has been brought up in a Muslim household, she does not consider herself a Muslim; she is a Hindu and believes in Ganesha.

When living in Khairatabad, Hyderabad district, she attended Vidyaranya High School for Boys And Girls, a school based on the teachings of Jiddu Krishnamurti, and later Nasr School, in Khairtabad. She attended Stanley Junior College and completed her graduation in Bachelors of Arts from Andhra Pradesh Open University, Hyderabad.