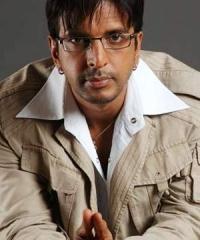 | | |
| --- | --- |
| Name | Javed Jaffrey |
| Height | |
| Naionality | Indian |
| Date of Birth | December 4, 1963 |
| Place of Birth | Bombay (now Mumbai), India |
| Famous for | Acting |
Javed Jaffery (born 4 December 1963) is an Indian actor, dancer, comedian, impressionist known for his work in several Bollywood films and Indian television shows. His father is the famous comedian Jagdeep.

Jaaved is a noted impressionist, best known in Hindi cinema for his comic caricature of Taporis, the local hoodlums of Bombay. He is particularly renowned for his portrayal of a hoodlum in the film Bombay Boys, starring in its hit song "I am Mumbhai." In addition to playing a wide variety of roles in Hindi cinema and Indian television, Jaaved is well known for his comic Maggi tomato ketchup advertisements with Pankaj Kapoor and dubbed commentary of the popular Japanese game show Takeshi's Castle on Pogo TV. He has been producing and hosting the highly popular dance show, Boogie Woogie, since 1996 on Sony Entertainment Television.

The film Meri Jung, released in 1985, gave him his first opportunity to enact the role of a villain and showcase his dancing powers on screen. Television in the 1990s highlighted his comical abilities, extending his popularity further. The launch of cable TV, particularly Channel [V] and its irreverent sense of humour, gave him a niche to depict his unique brand of comedy.

He anchored the show Videocon Flashback with distinctive brilliance. His deadpan expressions and bilingual puns gave him a formidable fan following.

Another notable contribution by Jaffrey is his performance as an anchor to the top-of-the-charts song programme, Timex Timepass, in which he shifted between the caricatures of characters.

He won his first IIFA award for best comic role in Salaam Namaste in 2006. He hosts the dance competition show Boogie Woogie on Sony Entertainment Television Asia with his brother Naved Jaffery and friend Ravi Behl. He recently started hosting a game show called Mai Ka Laal on Disney Channel India which airs on Sundays at 5pm.