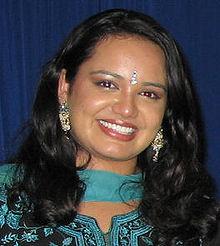 | | |
| --- | --- |
| Name | Jyotsna Radhakrishnan |
| Height | |
| Naionality | Indian |
| Date of Birth | September 5, 1986 |
| Place of Birth | Kuwait |
| Famous for | Acting |
Jyotsna Radhakrishnan (born September 5, 1986) is a playback singer in Malayalam cinema. She is based in Thrissur, Kerala. Jyotsna Radhakrishnan was born in Kuwait to Radhakrishnan and Girija. She was brought up in Abu Dhabi, and did her schooling up to 10th grade in Abu Dhabi. She is currently doing her final year Degree Course in English Literature, in Kerala, India. She has learnt both Carnatic and Hindustani music when moving back to Kerala. She got married to Sreekanth at Guruvayoor Temple on Sunday, 26 December 2010.

Jyotsana's interest in music started at a very young age. She has learnt Carnatic vocal under Mangad Natesan (A.I.R. artiste) and also Hindustani classical vocal under Guru Dinesh Devdas. Although she started her career in Malayalam Cinema with the song "Valakilukkam Kettedee" from the film "Pranayamani Thooval" in 2002, she shot into the limelight with the song "Sughamanee Nilavu" from the film "Nammal" after which she has had a very busy professional singing career. Till now she has sung in almost 130 movies including Malayalam, Tamil and Telugu. She also has lent her voice for 200 albums. Some of her other hits include "Karuppinazhagu" from "Swapnakoodu", "Melleyonnu" from "Manassinakkare", "Meheruba" from "Perumazhakkalam" etc.

Some of her latest films include "Classmates", "Pothen Vava", "Don", "Notebook" and "Janmam". She has traveled to the U.K., U.S.A and Singapore for musical programs and has performed with almost all leading playback singers of south India. She successfully concluded another North American tour recently with singer G. Venugopal, performing for Malayalees in major cities.