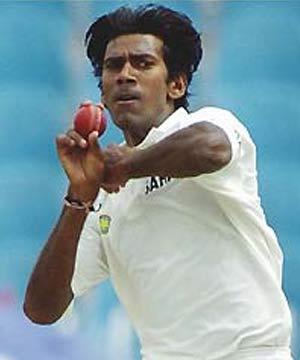 | | |
| --- | --- |
| Name | Lakshmipathy Balaji |
| Height | |
| Naionality | Indian |
| Date of Birth | 27 September 1981 |
| Place of Birth | Madras, Tamil Nadu, India |
| Famous for | Cricket |
Lakshmipathy Balaji (born 27 September 1981 in Madras, Tamil Nadu, India) is an Indian cricketer. International Cricket Balaji became a member of the Indian cricket team in 2003. After a strong 2008 domestic season where Balaji was instrumental in helping Tamil Nadu reach the Ranji Trophy semifinals, Balaji was called up to the international squad in January 2009 to replace an injured Munaf Patel who sustained a groin injury.

Balaji was included in the playing XI for the final match of the series against Sri Lanka where he was expensive in the five wicketless overs he bowled. Thus marking Balaji's return to the test squad after a five year hiatus having last been part of the test squad in the 2004 series against Pakistan. Indian Premier League Balaji played for the Chennai Super Kings team in the 1st 3 editions of the IPL starting from the 2008 Indian Premier League. Balaji has been notably consistent for the economy rate in all T20 matches in the IPL Chennai Super Kings as the normal matches of T20 seldom had run chases below or near 130 . After Chennai Super Kings won the tournament and went on to play the ACLT20, Balaji played most of the games in the tournament and his economical bowling was praised by the captain of the Indian team, MS Dhoni and was listed by him as one of the reasons to CSK's victory in the tournament.