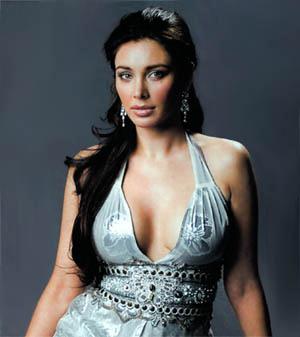 | | |
| --- | --- |
| Name | Lisa Ray |
| Height | 5' 4 |
| Naionality | Canadian |
| Date of Birth | 4 April 1972 |
| Place of Birth | 4 April 1972, Toronto, Canada |
| Famous for | Acting |
Lisa Ray came to public attention when she appeared in an advertisement for Bombay Dyeing wearing a high-cut black swimsuit,opposite Karan Kapoor. Subsequently, she returned to Canada to attend university to study journalism, but a car injury which injured her mother derailed those plans. Instead, she returned to India where she appeared on the cover of Glad Rags wearing a red Baywatch-style swimsuit. The sensation that caused led to more magazine covers, spokesperson deals and a job as host of her own show-business program. A Times of India poll named her the "ninth most beautiful woman of the millennium", the only model in the top ten.

She made her cinematic debut in 1994 in the Tamil film Nethaji opposite actor Sarath Kumar where she appeared in a brief role. Later she acted in a Telugu film Takkari Donga opposite Mahesh Babu. After turning down a number of roles, she made her Bollywood debut with the film Kasoor in 2001 opposite Aftab Shivdasani where her voice was subsequently dubbed by Divya Dutta as she could not speak Hindi. Her work in that film caught the eye of Deepa Mehta who cast Ray in the romantic Indian-Canadian romp, Bollywood/Hollywood in 2002. In 2005, she worked again with Mehta in the Oscar-nominated film, Water where she did speak her own lines in Hindi although her voice was dubbed in the final cut of the film. Since then she has worked in productions from Canada, Europe and the United States.

Recent roles include a farm girl in All Hat, a school teacher in A Stone's Throw a housewife in '50s apartheid South Africa in The World Unseen and a Christian-Arab lesbian in the humorously entitled "I Can't Think Straight" directed by Shamim Sarif.

In 2007, she completed filming for Kill Kill Faster Faster, which is a contemporary film noir inspired by the critically acclaimed novel of the same name by Joel Rose. She appeared in a few uninhibited sex scenes, which is very rare for a mainstream actress of Indian origin.

She guest starred in USA Network series Psych, which was directed by Jay Chandrasekhar, which aired on November 30, 2009.

She appeared in the famous song "Afreen Afreen" by Nusrat Fateh Ali Khan in 1996.

Lisa Ray has been featured in the Canadian edition of Hello magazine as one of the '50 Most Beautiful People' of the country.

Ray has also appeared in a guest role of a reporter, Dominique Ball, in the recent Woody Harrelson movie Defendor.

Ray will next be seen in UniGlobe Entertainment's cancer docu-drama titled 1 a Minute scheduled for release in 2010.The documentary is being made by Namrata Singh Gujral and will also feature cancer survivors Olivia Newton-John, Diahann Carroll, Melissa Etheridge, Mumtaz and Jaclyn Smith as well as William Baldwin, Daniel Baldwin and Priya Dutt, whose lives have been touched by cancer. The feature is narrated by Kelly McGillis. The film will also star Bárbara Mori, Deepak Chopra and Morgan Brittany.