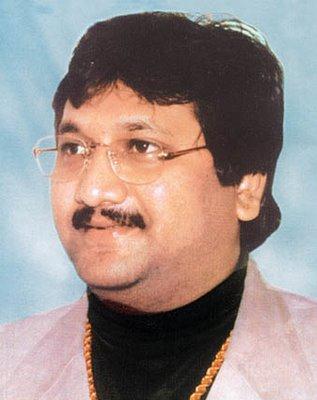 | | |
| --- | --- |
| Name | Mano |
| Height | |
| Naionality | Indian |
| Date of Birth | October 26, 1965 |
| Place of Birth | |
| Famous for | Singing |
Mano is an Indian playback singer. He sings in Telugu, Bengali, Kannada, Malayalam, Tamil and Hindi.Mano was born in a Muslim family and his original name is Nagoor Babu; he was rechristened Mano by Ilayaraja. He learnt Carnatic music from the leading vocalist Nedanuri Krishnamurthy.

He has acted in several stage plays and has done 15 Telugu films including Rangoon Rowdy and Kethu Gadda. In 1979, he was doing a Telugu film for which S. P. Balasubramanyam was to do playback singing for him. While the recording team was waiting for S. P. Balasubramaniam, the music director M. S. Viswanathan's assistant (who knew Mano's father) asked Mano to sing. Mano sang a few ghazals, which were appreciated by the audience. M. S. Viswanathan was impressed and asked him to come to Chennai. After completing that film, Mano abandoned his studies and worked with M. S. Viswanathan for two and half year, as his assistant.

He shot to fame with Shenbagame from Enga Ooru Paattukkaran. He followed with superhits like Mukkala Muqabla from the film Kaadhalan, sing with Swarnalatha composed by A. R. Rahman, Thillana from Muthu and Azhagiya Laila from Ullathai Alli Tha.

In 1982, Mano went to Telugu music director Chakravarthy, to introduce his brother (a tabla player) to the music director. He ended up working as Chakravarthy's assistant. As a music assistant, Mano used to render the dummy versions of the songs before the singers mixed their voices. In 1984, he got a chance to sing along with S. P. Balasubramaniam and Susheela in the film Karpoora Deepam, when a third voice was required.[1] Later, he sang for a Kannada film for music director Hamsalekha in (1985). In 1986, he sang Anne Anne in Poovizhi Vasalile for Ilayaraja, which was followed by other hits such as Enga Oor Paatukaran (Shenbagame', Madurai Mari Kozhundu Vaasam) and Velaikaran (Vaa Vaa Kanna Vaa, Velayillathavan etc.). Mano then requested Chakravarthy to relieve him, and started concentrating on his singing career. He made himself very popular after acting in a Tamil movie singaravelan

Mano also loves listening to and singing ghazals by Mehdi Hasan and Ghulam Ali. He has also done a few semi-classical numbers such as Athma Varaiyo. He has also sung a few Hindi film songs for Gulshan Kumar in Aaya Sanam, Aaja Meri Jaan, Kasam Theri Kasam, and Chor Aur Chan.

Mano has sung almost 22000 songsin 14 Indian languages. He received the prestigious "Kalaimaamani" Awardfrom the Government of Tamil Nadu also State Award of Tamil Nadu for the song "Thuliyela" from Chinna Thambi and the Best Singer Nandi awardfor many songs from the Government of Andhra Pradesh in 2000. He has also been awarded by many popular cultural associations in India. He received the Gold Bracelet and "Gana Samrat" from APNA foundation Atlanta, USA on April 14, 2008.His son Shakir is being Introduced as a hero in the film 'Nalladhor Veenai Seithen'

Mano has done more than 3000 Live shows around the world. He also Turned to a Producer by Dubbing Two Movies From Telugu to Tamil that is 'Madurai Thimiru' & 'Kumaran Rajini Rasigan' and Company is named as "Lord Venkateshwara Productions" and mano media entertainments.

His sons Shakir & Rafi and also made their Debut Song's in the Movie "Kumaran Rajini Rasigan".and his elder son shakir doing couple of movies his first movie is with director selva and the title is naanga and the 2nd movie with their home banner mano media's entertainments

Recently He got an dr.ghantasala award from chiefminister of Andhra Pradesh and is also doing his Show in Jaya Tv as 'Manathodu Mano' , In Vijay TV he is Jury of Judges for the 'Airtel Super Singer Junior' and also In Telugu judge for the Idea Super Singer on Maa Tv .