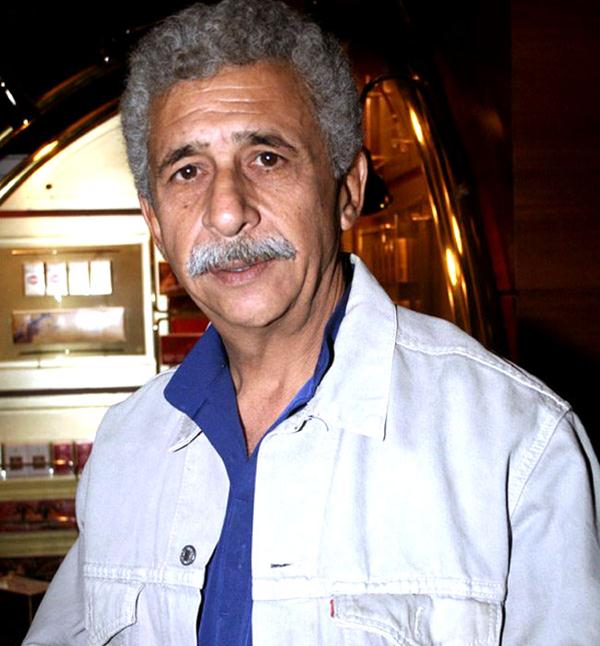 | | |
| --- | --- |
| Name | Naseeruddin Shah |
| Height | |
| Naionality | Indian |
| Date of Birth | 20 July 1950 |
| Place of Birth | Barabanki, Uttar Pradesh, India |
| Famous for | Acting |
Naseeruddin Shah (born 20 July 1950) is an Indian / Bollywood film actor and director. He is considered to be one of the finest actors of Indian cinema. In 2003, the Government of India honored him with the Padma Bhushan for his contributions towards Indian cinema.

Shah was born on July 20, 1950 in Barabanki, Uttar Pradesh, India. He is a descendant of the 19th-century Afghan warlord Jan Fishan Khan, and related to the Afghan writer Idries Shah, the famous Pakistani actor, Syed Kamal Shah , Director General of IB, Pakistan, Shah Mahboob Alam and the cricketer Owais Shah. Naseeruddin Shah did his schooling at St. Anselm's Ajmer and St Joseph's College, Nainital. He graduated in arts from Aligarh Muslim University in 1971 and attended National School of Drama in Delhi.

He has seen success in both mainstream Bollywood cinema as well as in Parallel Cinema. He also appeared in many international films most notably playing Captain Nemo in the Hollywood comic book adaptation The League of Extraordinary Gentlemen.

His elder brother Lt. General Zameerud-din Shah PVSM, SM, VSM, also an alumnus of St. Joseph's Nainital, retired from the Indian Army in early 2008 as Deputy Chief of Army Staff (Planning and Systems) and formerly commanded Dimapur based 3 Corps. He also served as Director Indian Defence Attache to Saudi Arabia from Feb 1994 -April 1997.

Shah has acted in movies such as Nishant, Aakrosh, Sparsh, Mirch Masala, Albert Pinto Ko Gussa Kyon Ata Hai, Trikal, Bhavni Bhavai, Junoon, Mandi, Mohan Joshi Hazir Ho!, Ardh Satya, Katha, Jaane Bhi Do Yaaro, etc. In the very early stages of his career he made a film with Rakhi where she played the character of kusumji whom he was forced to marry unwillingly (in the film). One of his most important films Masoom (1983) was shot at St Joseph's College, Nainital.

He became active in mainstream Bollywood cinema with the 1980 film Hum Paanch. His next major success in mainstream films was the 1986 multi-starrer film Karma where he acted alongside veteran Dilip Kumar. Starring roles for films such as, Ijaazat (1987), Jalwa (1988) and Hero Hiralal (1988) followed. In 1988 he played opposite his wife Ratna Pathak as Inspector Ghote, the fictional detective of H. R. F. Keating's novels in the Merchant-Ivory English language film The Perfect Murder.

He has acted in several multi-starrer Bollywood films as well, such as, Ghulami (1985), Tridev (1989) and Vishwatma (1992). In 1994, he acted as the villain in Mohra, his 100th film as an actor. He strongly believed that the distinction between art and commercial films had largely reduced, especially with the directors of the former also making commercial films. In 2000 his dream of playing Mahatma Gandhi was realized when he played Gandhi in Kamal Hassan's critically acclaimed Hey Ram which focused on the assassination of Gandhi from the assailant's point of view. He won a lot of critical acclaim by acting as Mohit, the drunken coach to a deaf and mute boy in Iqbal which was written by Vipul K Rawal keeping specially him in mind. He also worked in the critically acclaimed A Wednesday (2008).

Later, he starred in international projects such as Monsoon Wedding in 2001 and a Hollywood comic book adaptation The League of Extraordinary Gentlemen in 2003 (co-starring Sean Connery) where he played the role of Captain Nemo. His portrayal of Nemo was very close to the design of the graphic novel, although his Nemo was far less manic. He worked in an Indian adaptation of Shakespeare's Macbeth, titled Maqbool and Rajiv Rai's Asambhav in 2004. He then went on to work in The Great New Wonderful. He was most recently seen in Ishqiya. Shah's upcoming films include The Hunt where he plays a recluse growing marijuana in his forest retreat.

He made his Pakistani film debut in the critically acclaimed and controversial film Khuda Ke Liye by Shoaib Mansoor where he played a short cameo.

In 1977, he along with Tom Alter and Benjamin Gilani formed a theatre group called Motley Productions. Their first play was Samuel Beckett's play Waiting for Godot, which was staged at Prithvi Theatre on 29 July 1979.

In 1988, he acted in the eponymous television series based on the life and times of Mirza Ghalib, directed by Gulzar and telecast on DD National.

In 1989, he had also acted as the Maratha King Shivaji in another eponymous television series Bharat Ek Khoj based on Jawaharlal Nehru's book The Discovery of India directed by noted film director Shyam Benegal. The role of Aurangzeb was performed by Om Puri. The story of Shivaji was spread over two episodes.

In 1999, he acted as a special agent in a TV Series Tarkash, coming in Zee TV. He played the role of a retired agent haunted by nightmares who is re-inducted as he apparently knows something about a dreaded terrorist somehow connected with his past.

In 1998, he played the role of Mahatma Gandhi in the play Mahatma Vs. Gandhi, (which looked at the Mahatma's relation with Harilal Gandhi, his first son). With this, he achieved his objective of portraying Mahatma Gandhi, a role he had auditioned for Richard Attenborough's Gandhi. Incidentally, in 2000, he again portrayed the Mahatma, this time on film, in Hey Ram.

His performance in Sarfarosh (1999) was widely acclaimed. He played the villain with dual identity of a Ghazal singer and Pakistani spy who supports terrorism in India.

He was widely appreciated in his role of Mohit a drunken coach in the critically acclaimed film Iqbal (film). The role was specially written keeping him in mind by Vipul K Rawal, the writer of Iqbal (film). The role got him rave reviews. The film was also recently voted as one of Ten Hindi Films that is considered ideal training and motivational material.

He was the first of several celebrity actors, who played the role of narrator in the popular audiobook series for kids Karadi Tales,. He was also the narrator in the film Paheli - the Indian entry to the 2006 Academy Awards.

He has been awarded the life membership of International Film And Television Club of Asian Academy Of Film & Television.

Naseeruddin Shah has been giving performances with his theatre troupe at places such as New Delhi, Mumbai, Bangalore and Lahore. He has directed plays written by Lavender Kumar, Ismat Chughtai and Saadat Hasan Manto.

His directorial debut in movie, Yun Hota To Kya Hota, was released in 2006. The movie stars several established actors such as Konkona Sen Sharma, Paresh Rawal, Irfan Khan, newcomer Ayesha Takia, his son Imaad Shah and his old friend Ravi Baswani.

He is married to Bollywood actress Ratna Pathak Shah. They have a daughter, Heebaa, and two sons, Imaad and Vivaan. They have co-starred in the films like Jaane Tu... Ya Jaane Na, Mirch Masala and The Perfect Murder.

Heeba Shah is Mr. Shah's daughter from the earlier marriage. She is not the daughter of Ratna Pathak Shah. Naseeruddin Shah married Ratna Pathak after the demise of Heeba Shah's mother.