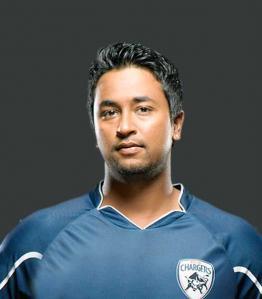 | | |
| --- | --- |
| Name | Pragyan Prayish Ojha |
| Height | 6' 0" |
| Naionality | Indian |
| Date of Birth | 5 September 1986 |
| Place of Birth | Khurda, Orissa, India |
| Famous for | Cricket |
Pragyan Prayish Ojha (born 5 September 1986 in Khurda, Orissa) is an Indian cricketer. Debuting in first class cricket in 2004/05, Ojha is a left-arm spinner who has represented India at under-19 level. Pragyan Ojha plays for the Hyderabad and the Deccan Chargers in the Indian Premier League. However, after an indifferent performance in the first match in the Super Eight stage against the West Indies, which India lost, he was dropped in favour of all rounder Ravindra Jadeja, another left arm finger spinner.

In November 2009, Ojha made his Test debut in the Second Test against Sri Lanka in Kanpur, usurping Amit Mishra and gaining figures of 2-37 off 23 overs and 2-36 off 15.3 overs in India's 100th Test win. Despite taking nine wickets at 28.66 in two Tests, he was then dropped in favour of Mishra as the second spinner for the tour to Bangladesh. Ojha became the 800th and final Test victim of Muttiah Muralitharan, the highest wicket taker in Test history. Inspiration In an interview, Pragyan Ojha said that Venkatapathy Raju, who was also a left-arm spinner, inspired him to play for India.