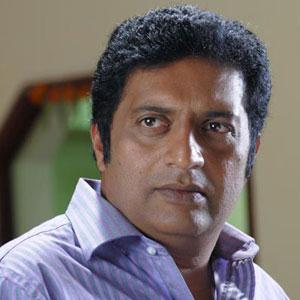 | | |
| --- | --- |
| Name | Prakash Raj |
| Height | |
| Naionality | Indian |
| Date of Birth | 26 March 1965 |
| Place of Birth | Puttur, Karnataka, India |
| Famous for | Acting |
Prakash Rai, born 26 March 1965), better known by his stage name Prakash Raj, is a National Award winning actor,director and producer who has worked in Kannada, Tamil, Telugu, Hindi and Malayalam films. Though he was born in a Tulu family he achieved fame through Tamil,Telugu and Kannada films. He got introduced to films by K. Balachander in the movie Duet (1994). In remembrance, he named his production company "Duet Movies".

He has played a variety of roles, most notably as the antagonist in Tamil,Telugu and Kannada and of late, as a character actor. He is considered to be one amongst the club of natural actors. He has won a National Film Award for Best Supporting Actor in 1998 for Mani Ratnam's Iruvar and a National Film Award for Best Actor in 2009 for his role in Kanchivaram, a Tamil film directed by Priyadarshan.

Prakash began his acting career with Kannada Doordarshan serials like Bisilu Kudure and Guddada Bhootha. He later took up supporting roles in Kannada films like Raamachari, Nishkarsha and Lockup Death. He was noticed for his dialogue delivery and histrionics. His breakthrough role came in form of Harakeya Kuri starring Vishnuvardhan and Geetha, directed by K. S. L. Swamy. His performance in the movie was noticed by Geetha and she, in turn, introduced him to her mentor K. Balachander, a Tamil film director. He acted under the screen name "Prakash Rai" in Kannada films and was rechristened "Prakash Raj" by K. Balachander for his debut Tamil film Duet, which saw him playing his first major role. He became popular through Tamil films, where he did most of his films. Following this he went on to act in more than 250 films.

Prakash Raj re-entered Kannada films through Nagamandala in 1997, directed by T.S. Nagabharana which was selected for Indian Panorama in the International Film Festival in 1997. He was also a part of Mani Ratnam's stage show, Netru, Indru, Naalai. In 1997, he acted in Mani Ratnam's biopic film Iruvar. The movie dealt with the relationship between politicians M. G. Ramachandran and M. Karunanidhi, for which he won the National Film Award for Best Supporting Actor. One of Prakash Raj's greatest hits was his role in Telugu film Okkadu, where he played a gangster who is in love with the heroine. After Okkadu, Prakash Raj was flooded with offers. The film was remade in Tamil as Ghilli and in Kannada as Ajay starring Puneet Rajkumar. His 2007 production Mozhi was a box-office hit and praised by critics proving that he can play a comedy role just as good as a negative character.

Mozhi, directed by Radha Mohan, was well acclaimed. He played an important role in Venkat Prabhu's Saroja which became a box-office success. In 2008 he produced a film titled Abhiyum Naanum and played an important character in it. He remade the movie in Kannada as Naanu Nanna Kanasu which was critically acclaimed as well.

He took on the mantle of producer and has produced several movies in Tamil (Kollywood). Most of the movies he produced turned out to be box-office hits and were also critically acclaimed. His movies are also considered as family entertainers. He produced the movie Dhaya in which he acted as the hero with actress Meena which was a hit and earned him a special jury award for his performance. His movie Poi (lie in English) directed by his mentor, K. Balachander, was a non-grosser. It starred Uday Kiran, K. Balachander and Prakash Raj.

Prakash Raj had danced in the song "Kanchi Paanaiyin Maela" for his film Vellithirai.

His Kannada production Naanu Nanna Kanasu completed 100 days successfully across Karanataka. His next production venture, titled Akasmaath, is a remake of the Telugu hit Aithe and stars himself along with new actors. The movie is scheduled to go on floors in September 2010 to be directed by Dayal Padmanabhan. He made Puttakkana Highway in Kannada which won National award in 2011.

Prakash Raj directed Naanu Nanna Kanasu in Kannada (2010), a remake of his own Tamil production Abhiyum Naanum. His next directorial venture is a Tamil - Telugu bilingual, sports venture Dhoni named after Indian cricket captain Mahendra Singh Dhoni.