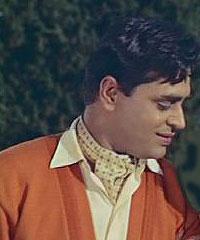 | | |
| --- | --- |
| Name | Rajendra Kumar |
| Height | |
| Naionality | Indian |
| Date of Birth | 20 July 1929 |
| Place of Birth | Punjab, British India |
| Famous for | Acting |
Rajendra Kumar (20 July 1929 – 12 July 1999) was one of the most successful Indian Bollywood actors in the 1960s and 1970s. He also produced several films in the 1980s starring his son Kumar Gaurav. He was born in a Punjabi Hindu family in Sialkot, in the West Punjab province of British India, currently in Pakistan.

Rajendra Kumar made his debut in the 1950 film Jogan in which he starred opposite Dilip Kumar and Nargis. He then shot to fame in the blockbuster hit Mother India in 1957 in which he played Nargis's son. His first major success as a romantic leading man was in Amit Saxenas's musical superhit Goonj Uthi Shehnai (1959), co-starring Ameeta.

The 1960s saw Kumar rise. The songs of his films in Mohammed Rafi's voice became mega hits. There were times when he had six or seven films running in their silver jubilee weeks at the same time.[citation needed] He became known as "Jubilee Kumar".

He had many successful box office hits including Dhool Ka Phool (1959), Mere Mehboob (1963), Sangam (1964), Arzoo (1965), Suraj (1966) and Ganwaar (1970). He received the Filmfare Nomination for Best Actor for Dil Ek Mandir (1963), Ayee Milan Ki Bela (1964), Arzoo (1965), and as Best Supporting Actor for Sangam (1964). He was considered a golden boy for the movie producers as he could recover their money in a matter of weeks.

From 1972 onwards, he faced stiff competition in the form of the phenomenal Rajesh Khanna. Several of his films bombed at the box office. The dry spell ended when he was offered an interesting role in the film Saajan Bina Suhaagan opposite Nutan. The film was a huge blockbuster of 1978. Rajendra Kumar had regained his 'Midas touch'. He then switched to character roles in the late 1970s and 1980s. He also starred in a number of Punjabi films like Teri meri ek jindari.

In 1981 Rajendra introduced his son Kumar Gaurav in the film Love Story which he produced, directed and also starred in. The film was declared a blockbuster. But the success was short-lived as Kumar Gaurav's later films were huge disappointments at the box office and his son's career declined as soon as it began. Rajendra produced several other films starring his son which did not do well. In 1986 he produced Naam with his son and his son's brother-in-law Sanjay Dutt in leading roles which was a box office success. His last attempt to revive his son's career was with the 1993 film Phool where he once again acted alongside him; this film was also a box office failure.

Rajendra appeared in only a few films after this and his last film appearance was a minor role in Deepa Mehta's critically acclaimed film Earth in 1998.