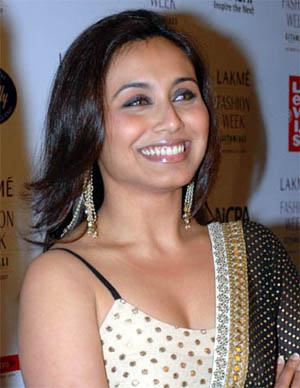 | | |
| --- | --- |
| Name | Rani Mukerji |
| Height | 5' 3 |
| Naionality | Indian |
| Date of Birth | 21 March 1978 |
| Place of Birth | Calcutta, West Bengal, India |
| Famous for | Acting |
After doing a short cameo appearance for the first time in her father's Bengali film Biyer Phool (1992), Mukerji made her acting debut five years later, as the protagonist of Raja Ki Aayegi Baraat (1997). Her performance as a rape victim in the film was well received, but the film failed to do well commercially. Nevertheless, she received a Special Jury recognition at the Star Screen Awards. However, when the film failed at the box office, she returned to college to complete her education.
Mukerji as Tina Malhotra in Kuch Kuch Hota Hai (1998), her biggest commercial success to date. Pictured with Shahrukh Khan.

Mukerji had a successful comeback in 1998 with Ghulam, opposite Aamir Khan; the film did well at the box office. The song Aati Kya Khandala made Mukerji popular among the masses, earning her the nickname of Khandala Girl. Karan Johar's directorial debut, Kuch Kuch Hota Hai, co-starring Shahrukh Khan and Kajol, followed for her that year. The movie was a blockbuster, and she received her first Filmfare Award in the Best Supporting Actress category.

She followed her career by signing on several projects. Unfortunately, most of them did not do well at the box office. Although Badal was one of the highest grossing films of 2000, she still did not succeed to establish her status in the industry at that point of time. Among other films of that period, Kamal Haasan's Hey Ram was a critical success.

In 2001, Mukerji starred in Abbas Mustan's romantic drama Chori Chori Chupke Chupke, co-starring Salman Khan and Preity Zinta. The film was released after a one-year delay, and was one of the first Bollywood movies to handle the issue of surrogate childbirth. Mukerji's role was that of Priya Malhotra, a woman who is unable to conceive after a miscarriage, thus hires a surrogate mother. Rediff.com wrote, "Rani Mukherji is handicapped with a role that doesn't give her much scope besides weeping and sobbing. To her credit, she manages to hold her own even while playing a stereotypical sacrificing bhartiya nari."

In 2002, Mukerji played the lead role in Kunal Kohli's romance Mujhse Dosti Karoge!, co-starring alongside Hrithik Roshan and Kareena Kapoor. Although the movie did not do well in India, it generated great business overseas, and marked her entry into India's biggest production house: Yash Raj Films. Later that year, Mukerji starred in Shaad Ali's critically acclaimed Saathiya opposite Vivek Oberoi. Essaying the role of Suhani Sharma, a medical student who deals with the tensions and discontent of being married at a young age, she won a Filmfare Critics Award for Best Performance, and among several other nominations, received her first Best Actress nomination at the Filmfare. Manish Gajjar from BBC noted, "...Rani Mukerjee...plays the character of a middle class girl with great conviction."