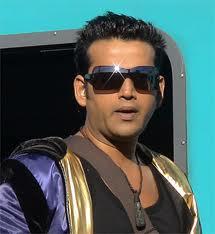 | | |
| --- | --- |
| Name | Ravi Kishan |
| Height | |
| Naionality | Indian |
| Date of Birth | July 17, 1971 |
| Place of Birth | Jaunpur, Uttar Pradesh |
| Famous for | Acting |
Ravi Kishan (born 1971) is an Indian film actor and television personality, who works in Hindi cinema and Bhojpuri cinema. In 2006, he participated in Bigg Boss, the Indian version of Big Brother. He has starred in a number of commercially successful Bhojpuri films, frequently starring opposite Nagma.

Ravi Kishan was born in a small village named barai in Kerakat Tahsil, Jaunpur Shaganj district of Uttar Pradesh.

In June 2008 he was awarded the Most Popular Actor award at ETV Bhojpuri Cinema Samman 2008 function.

Popular reality shows like Big Boss and more recently Ek Se badhkar Ek have brought him to the front line of top Indian television actors.

Ravi Kishan started his own company named Mahadev Production in 2008, to produce Bhojpuri Films. In 2008, he started co-hosting the celebrity dance-based reality show Yeh Hai Bathroom Singer, Ek se badhkar ek - Jalwe sitaron ke on Zee. Ravi Kishan also hosted a hypnosis show, Raaz Pichhle Janam Ka, on Ndtv Imagine. He acted in Shyam Benegal's recent flick Welcome to Sajjanpur (Hindi).

A film starring Ravi Kishan, Jala Debh Duniya Tohra Pyar Mein, produced by American film company PUN Films, was shown in the India Pavilion at the Cannes Film Festival 2010.

* Ravi Kishan is married to Preeti; they have a son and 3 daughters. His Father's name is Mr. Shyama Shukla, He lived at his home town, Bisuin(Barain), Jaunpur.

Bisuin is a very small village of just 20 families aproxx. Bisuin is situated on the border of Varanasi Jaunpur district of Uttar Pradesh. There are three entrance gates in the village. His family members are Mr. Kailash Nath Shukla(Lecturer), Mr. Udayraj Shukla (Businessman).